(A huge goal of this website is to equip readers to better support their family, friends, and community, especially those facing unique or potentially misunderstood circumstances. I wanted to speak to the topic of how to help parents of children with disabilities, but knew this information had to come straight from the source! And so…I'm thrilled to introduce guest writer, Sarah Lango! She's a mother to three children, one of whom has a medical disability, and writes about faith, marriage, motherhood, and special needs parenting at GraceFilled Growth. I'm both incredibly thankful and deeply honored to have her words grace this page. Thank you, Sarah!)
Have you ever wondered how you can truly help the parents of a child with a disability? The thought of stepping into this type of life situation, where at times there is a lot of unpleasantry, can cause many of us to squirm.
We tend to run away from situations that make us feel uncomfortable, not walk toward them. But this leaves us with an epidemic of parents who feel totally alone and rejected as they walk the road of parenting a disabled child.
And that's not how it should be. We are called to walk through this life together.
For half of my parenting life I was just a "normal" parent. I had friends who had children with disabilities, but I didn't know how to help; most of the time I didn't even recognize the need for help. The situation was too distant and I couldn't wrap my brain around that reality…so I didn't.
Then I became the parent to a child with a medical disability. And everything changed as I quickly learned of my ignorance.
If someone you know is parenting a child with a disability, they do in fact need your help, encouragement, and friendship. There is not a question of whether or not the need is there. The question becomes how you can effectively help them.
Here are a few practical things that have helped my family tremendously on our journey. I would encourage you to utilize these concepts to help those in your life who are parenting a child with a disability.
Be available.
I cannot begin to tell you the number of times someone has said "just let me know if you need something"—but when the time of need came, did not have the freedom in their schedule to actually follow through.
I think this is a lesson for all of us. What if we were intentional about leaving space in our schedules to follow the Lord's leading in caring for others? Carving out this availability for those who are parenting children with disabilities can be a huge help and allow you to follow through with some of the other ideas that follow.
Offer specific acts of serving.
With that availability, might I recommend offering specific acts of service. So often we blanketly say something like, "Let me know how I can help," always with the best of intentions.
But often times, parents of a child with a disability are so overwhelmed with their life situation they cannot even muster the energy to come up with specific needs. Additionally, there can be a wide variety of need and it can feel awkward not knowing if perhaps you are asking more of someone than what they were truly offering.
Instead, replace the blanket statement with a specific act, for example—picking the kids up from school, babysitting for a date night, watching the disabled child so mom can shower or nap, picking up groceries, or bringing by a meal on a specific day and time. This takes the pressure off both parties and provides clarity to the offer.
Check on them.
Parents of disabled children often feel lonely and forgotten. Because doctors visits, 911 calls, and the extra burdens of therapies become a fixture in their lives, people assume those things leave them unshaken—but this is very untrue.
The mental and emotional health of parents is affected immensely by their child's diagnosis and journey. So many times a simple phone call, note in the mail, or text message just checking in has given me the reminder I needed that I am cared for and not forgotten. It's a simple task with a minimal time commitment!
Encourage them to take care of themselves too.
While you're checking in, remind the parents that it's okay to take care of themselves too. As caretakers it can often feel selfish to take the time for self care. Sometimes we need the reminder that it's important and the encouragement from a friend to see a therapist, do yoga, have a night out, etc.
Invite and accommodate them.
The reality of parenting a disabled child is many activities that would seem normal now become complex. Due to this, many parents face the reality that they are simply no longer invited. It's far easier to leave someone off the guest list than to go out of the way in order to provide an accommodating/inclusive environment.
However, this leaves many parents of disabled children trapped in a world where friendships dwindle and social lives become non-existent, adding to that loneliness we already discussed. Go out of your way to provide an environment that is suitable for those with disabilities and never stop inviting those families.
Be active in spreading awareness.
There is nothing that does my heart more good than to see my friends taking ownership of advocating for my child and her diagnosis. It truly helps parents of disabled children to feel the power of a community at work and recognize they are not in this fight alone.
You can do this by educating yourself, using your voice to tell their story, sharing on social media, showing up to fundraisers and advocacy events, or perhaps even offering to help plan something to promote advocacy. The impact of this action benefits the entire disabled community.
Pray for them and with them.
Sometimes "I'll pray for you" gets a bad name within the disability community because it can be a cop out that requires little action. Yet if like me, you believe in the power of prayer—then prayer is one of the greatest gifts you can offer to the parent of a child with a disability. If you say you are going to pray, follow through with that commitment. Please sincerely pray for them, and with them, as often as possible. The sincere prayers of friends have been a soothing balm for my soul during some of the roughest moments of this journey.
Hopefully this list will help us all better step out of our comfort zones and care for those who are parenting a child with a disability. After all—what better way to live out love?

ABOUT SARAH
Sarah Lango is a momma of 3, wife, writer, speaker, Jesus follower, and coffee lover from small town Missouri.
She is the founder of Gracefilled Growth, where she writes about her faith, marriage, motherhood journey, and her experience of special needs parenting. Her passion is to inspire others to live authentic lives, learning together, and embracing the grace that God so lovingly offers. You can read more of Sarah's writing at www.gracefilledgrowth.com or on her Facebook page.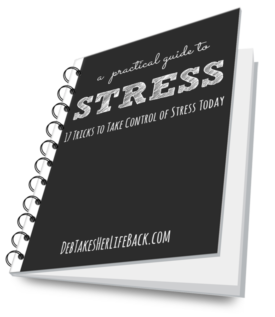 P.S. Ready to break up with stress? Then click here to download your free guide to taking control of stress today!
Disclosure: While all opinions are our own, we are a participant in the Amazon Services LLC Associates Program and other affiliate advertising programs, designed to provide a means for us to earn fees by linking to Amazon.com and affiliated sites, at no additional cost to you.