The Problem With Pessimism
If you're reading this post, you're likely one of two people: (1) a pessimist wondering how to become an optimist or (2) an optimist attempting to convert your pessimistic friend or family member. I've always leaned toward #2, and have a tough time not getting frustrated with pessimists.
Now I'm not talking about people who are honest about their current circumstances. I'm talking about chronic pessimists.
Chronic pessimists constantly complain about how messy and loud their kids are while others are struggling with infertility. They can't find a single positive thing to say about their job while others remain unemployed despite their best efforts and are panicking at the thought of upcoming bills.
They complain about eating the same boring meal too often while others are struggling to keep food on the table. William Arthur Ward said it best, "A complaining tongue reveals an ungrateful heart."
Sometimes Optimism is Hard
Here's a depressing story: After being married to my first husband for two years, he blindsided me by asking for a divorce. I didn't see it coming, didn't have a clue we had come even close to that point.
He didn't want a discussion or counseling, he just wanted out. Immediately.
So there I was, facing life after divorce. I couldn't afford to live alone in the city where we had relocated for his career. So I packed everything I could fit into my Mazda Protege to make the 1000+ mile drive to my hometown to move back in with my parents. I left a promising job where I was receiving training to advance my career, to become unemployed for the first time in 11 years.
For several weeks in a row, I cried. Every. single. night.
If there was ever a reason to cry, that was a pretty good one. I wasn't sure how to become an optimist again in the midst of my current mess.
One month later, I started attending a young adults ministry in an attempt to refocus my faith and build a new circle of local friends. My first night there, the band played a song based on 1 Peter 5:10 (ESV) that says, "And after you have suffered a little while, the God of all grace…will himself restore, confirm, strengthen, and establish you."
I began to sing those words in church, in my parents' home, at my new entry-level, several-steps-backward job, on my jogs, everywhere. And the more I focused on those words, the more positive my outlook became. Within a few months, I was thanking God for everything that I had instead of crying about everything that I didn't have.
How to Become an Optimist – Start Your Day With Thanks
We become what we focus on. So how can we become an optimist when it's hard to find the positives in our current situation? We tweak our morning routine to set a positive tone for the entire day.
I can't talk to anyone, not even God, within the first 30 minutes of waking up. I brush my teeth, shower, and put on my makeup basking in the sweet, peaceful calm while my husband and daughter are still sleeping.
By the time I'm drying my hair, I'm feeling more awake and alert and able to process a conversation, and I have three options. (1) Sing Sesame Street's annoyingly catchy "Letter of the Day" song over and over in my head. (2) Start thinking about everything I need to accomplish that day, which is a little too busy, too early. Or (3) start thanking God. (1) Annoying, (2) too busy, or (3) thankful – it's a no-brainer.
First, I start by thanking God for the things that are easy to feel thankful for – my family, our health, having food on the table. These are all of the things you say when you're going around the table at Thanksgiving dinner sharing what you're thankful for.
How to Become an Optimist – Turn Your Problems into Thanks
Secondly, I move to my prayer requests and turn them into thanks. So after telling God, "I'm so frustrated with my inability to stick with a healthy diet," I pray, "Thank you so much for my health, for the food on my table, and for legs that can walk and run and keep me active."
First I confess, "I'm not sure if I can mentally handle another monotonous day at home with our toddler with no real plans until tomorrow. I honestly just don't like being a stay-at-home mom some days".
Then I pray, "Thank you for the opportunity to stay home with our daughter until she starts school. I'm so grateful to be able to play such a huge role in her formative years."
It's not that I ignore genuine challenges. It's that I acknowledge them, submit them to God, then find something, anything, within that challenge for which I can feel thankful.
How to Become an Optimist – Write It Down
Third, if you want to take it to the next level, or if you struggle with spontaneous prayer, consider writing down what you're thankful for.
I once worked with someone that started every morning by writing down ten things he was grateful for that day. Some mornings he got really deep and spiritual.
Other mornings he was thankful for the Starbucks machine at work or his mom's tamales. He was, and still is, one of the most optimistic and happy people that I know.
How to Become an Optimist – Give It Time
Will your thanks always feel genuine? Not at all!
I felt like I was lying to God when I first thanked him for the opportunity to move back in with my parents for a short time. But the more I practiced an attitude of thankfulness, the more genuine it felt. And every day I could more easily see the silver lining in seemingly negative situations.
Will this new morning routine immediately turn you into an optimist? Nope! The first morning I tried it, my optimism lasted about 15 minutes.
Then I had to share the one bathroom in my parents' house with my mom. I was trying to put on my makeup in silence while she used the mirror beside me, talking nonstop.
Positive attitude – gone! But the next day, I made it a minute longer, and the day after, I made it all the way to work.
Maybe you could pray while you dry your hair, maybe before you even get out of bed. Maybe you wait until your morning commute, and spend time practicing gratitude instead of road rage. It's a process, it takes time, but it will change the way you see the world.
You, Yes You, Can Become an Optimist
Life is full of ups and downs, and sometimes you'll have more downs than ups. It's easy to focus on problems with our job, our marriage, our health, or our finances. But the apostle Paul put it very well:
Do not be anxious about anything, but in everything by prayer and supplication with thanksgiving let your requests be made known to God. And the peace of God, which surpasses all understanding, will guard your hearts and your minds in Christ Jesus.

Philippians 4:6-7 (ESV, emphasis added)
So what's the secret to how to become an optimist? Start every morning thanking God for your blessings, and then turn your negatives and prayer requests into further thanks. Write it down and give it time, and you'll see your attitude slowly begin to change.
Choose optimism. Choose thankfulness. I guarantee it'll change your entire life.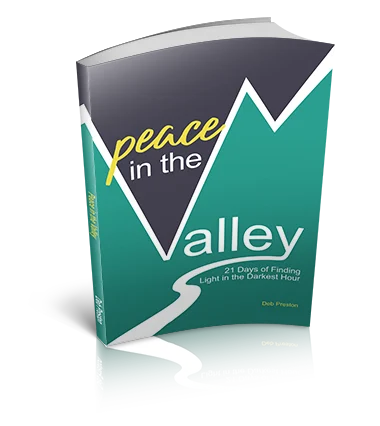 P.S. It's hard to thank God when you're walking through the valley. Our new 21-day devotional is refreshingly honest, down-to-earth, and speaks to the heart of the matter—how can we reconcile our trials with our faith? Check it out here!
Disclosure: While all opinions are our own, we are a participant in the Amazon Services LLC Associates Program and other affiliate advertising programs, designed to provide a means for us to earn fees by linking to Amazon.com and affiliated sites, at no additional cost to you.