Hi, I'm Deb! I'm so glad you're here to learn more about the journey that inspired this blog.
Surviving Life
I created Deb Takes Her Life Back because I had reached a point in my life that I was just surviving each day. I had left my job to care for our new baby and was struggling to adjust and reestablish my identity. My husband was experiencing job burnout that was starting to bleed into his non-work life.
We'd each "recover" from the day by zoning out in front of the tv or our phones for 3-4 hours every night. We had no family nearby and only one friend that we saw regularly. We disconnected from the world, and from life itself.
Our family was in survival mode, and I hated it. I wanted to lead a fulfilling life, without regret for what could have been. I wanted to focus on the things that truly mattered and brought me joy, to live with purpose, and to chase my dreams.
Pushed Into Action
We were finally pushed into action when my husband was severely sick for several weeks. We had no nearby support system and now no support from him in caring for our child and home. After a few weeks, I broke down into tears one night. We loved our city, our house, and the general vibe of the area. But we realized that we were missing out on the most meaningful parts of life.
So we left our small home just outside of Austin, Texas, to relocate to the San Antonio area, where my parents, brother's family, and aunt's family all lived. We wanted our daughter to grow up with a sense of community.
A New Start – Truly Living Life
We determined that we wouldn't just move near family, but would make this move our chance to start living life as it was intended. Our goals were to establish family, a community of friends, and physical, emotional, and spiritual health.
What You Can Expect to Find Here
This blog documents our journey. It focuses on the five areas we found essential to a fulfilling life – family, community, health, mind, and spirit. The posts focus on providing practical guidelines to enhance your life in each of these five areas. They also address some of the issues you might encounter in each and how to overcome them. The goal is to never discuss a lofty idea like identity or purpose without providing practical advice about what you can do to improve your life in that area today.
The overall theme is to accept that we're not perfect. It's to tackle the very big goal of transforming our lives, one action and one post at a time. You can get a good feel for this approach in my post, Imperfect Perfectionist.
Could you use a little more personal encouragement on your journey from surviving life to truly living it?
Our multi-tasking monthly newsletter:
Shares some more personal insight into my journey.
Highlights what's new on the blog.
Delivers lots of free printable downloads, plus discount codes to our latest products.
Click here to subscribe to our newsletter and receive a free gift!
If you're looking for a practical guide to adapt from surviving life to truly living it, then you've come to the right place. Let's be the people we've always wanted to be!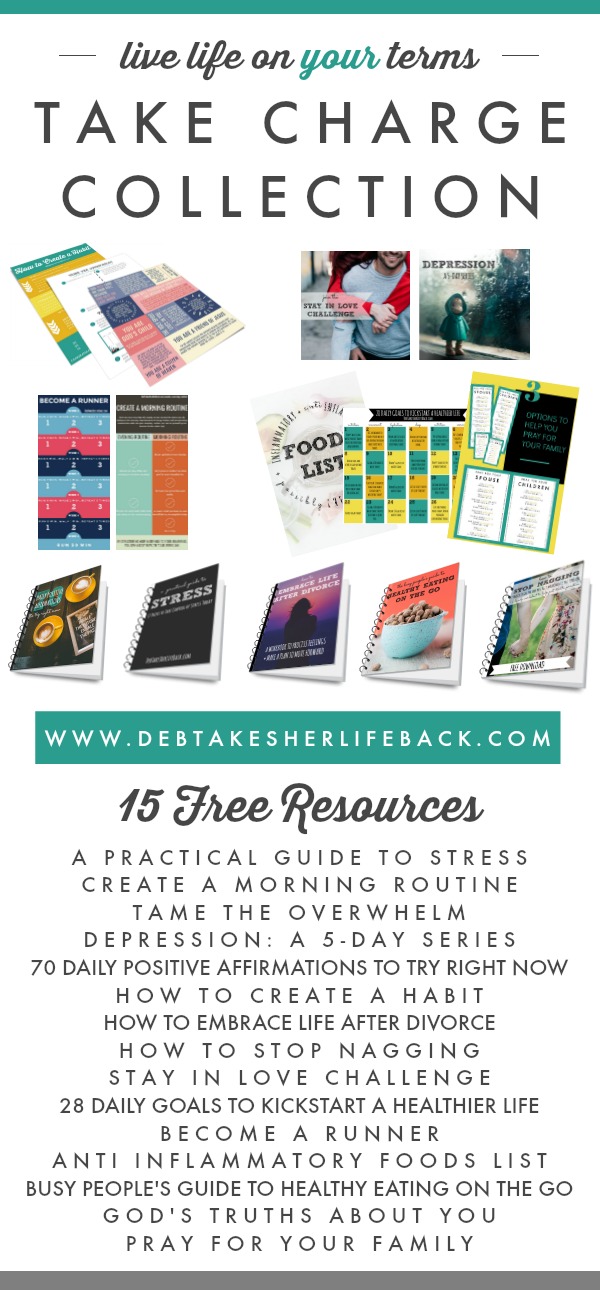 P.S. Want a bundle of 15 free resources to help you start taking charge of your life today? Click here to have the Take Charge Collection sent straight to your inbox.