If you're trying to eat healthy but short on time, you've likely slowed your scroll a bit when the internet markets healthy meal delivery services your way. Most of the ads even boast extra savings for first-time subscribers!
But…how long do you have to subscribe? And how much is it really?
And is the food even any good?! Will your family eat it?
These are all questions I asked myself about several of the healthy meal delivery services I saw advertised. So I decided to take the plunge for you! I wanted to offer a thorough review and comparison from our brutally honest family.
I tried roughly ten meals/servings worth of Hungryroot, Factor, and Freshly. Here's what I found!
Hungryroot's Healthy Meal Delivery
My quest started with Hungryroot, who made me feel like I was walking into a kitchen full of appliances singing, "Be our guest! Be our guest!" Right out of the gate, they ask you to take a quiz regarding your preferences.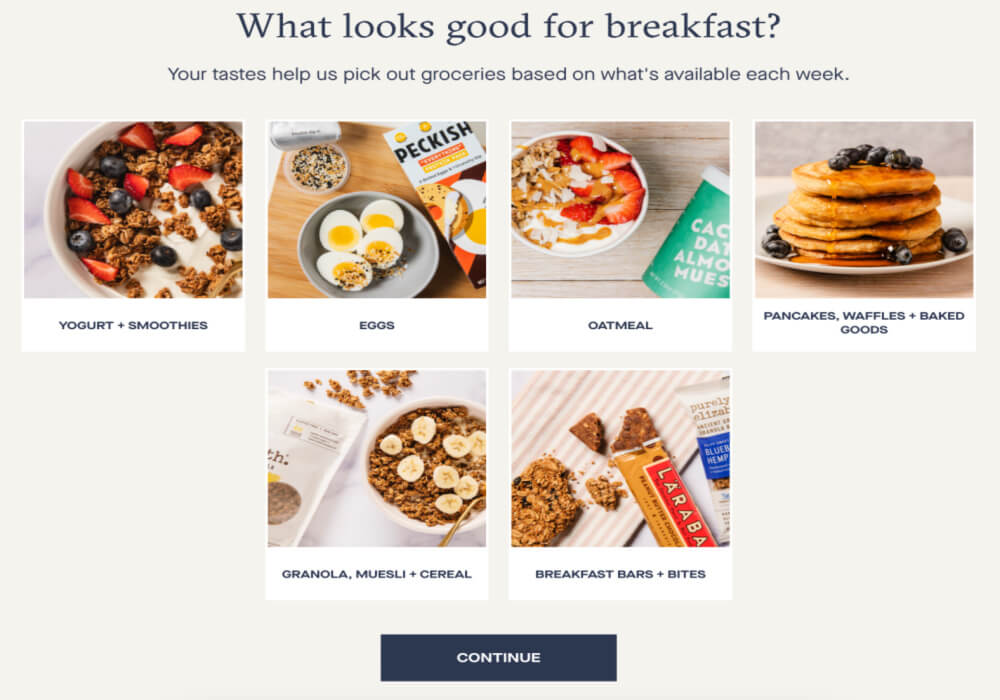 Questions include things like, "Do you like these kinds of meats?", "How do you usually eat throughout the day?" and "What looks good for breakfast?"
Based on your answers, the website will suggest a specific number of meal and snack servings (allowing you to adjust the number if you'd like), then fill your cart based on what you've told them…after you've paid for your first delivery.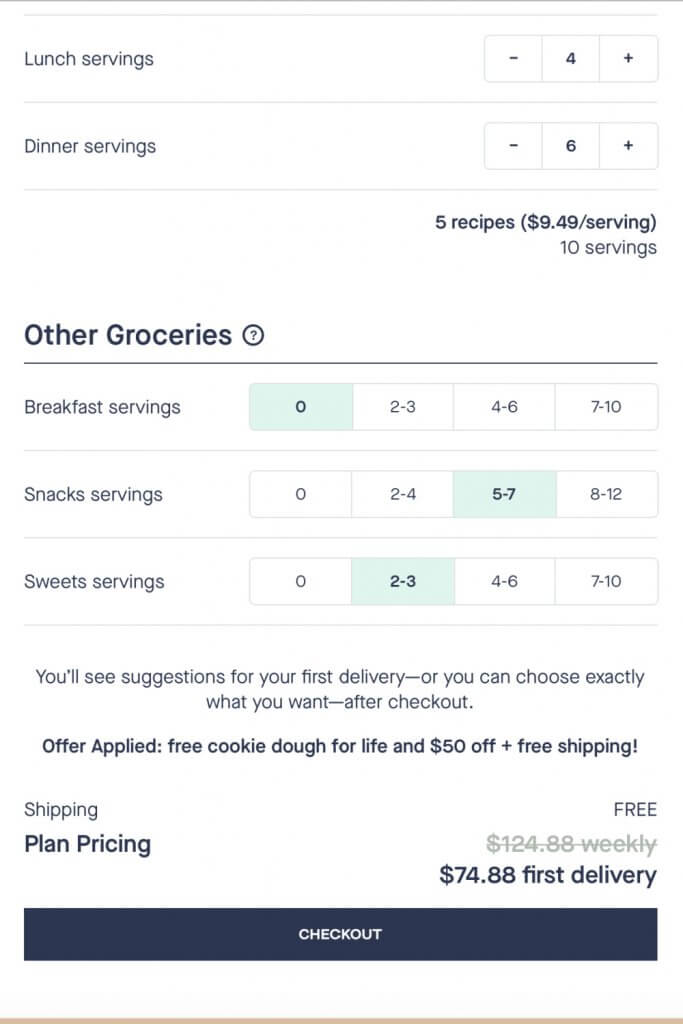 It was a bit unnerving for me to pay $75 (after discounts and free shipping) sight unseen. I would have preferred to see exactly what I'd be getting for that amount before sharing my card number.
However, you are brought to your pre-filled cart immediately after paying. Here you'll be able to view your suggested meals and swap them for something else if you don't think you'll enjoy their suggestions.
What's interesting about Hungryroot is that rather than displaying dollar amounts, each item requires a certain number of credits. For example, organic green chile guacamole calls for three credits, while pork carnitas call for five.
While this system simplifies the purchase process in many ways, it also makes it difficult to know exactly how much you're paying for guacamole.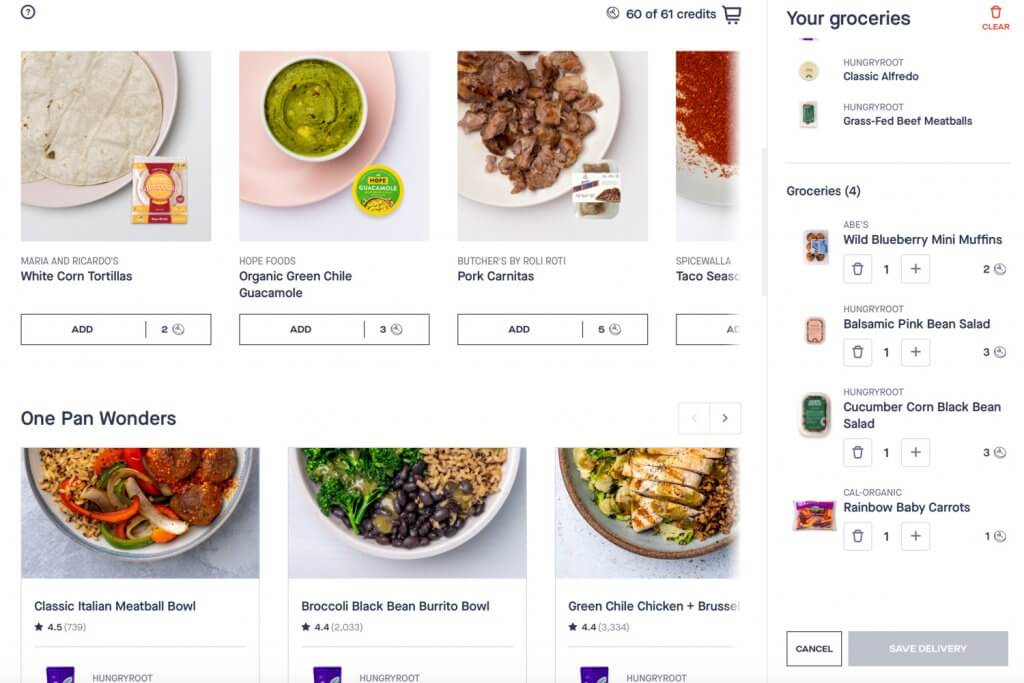 The order arrived on time, carefully packaged in a refrigerated box. These would be all the ingredients I would need (outside of staples like butter and salt) to create five meals for two people, to make ten meals/servings total.
It also included healthy snacks for between meals, half of which my husband and daughter immediately devoured and declared, "Best ever! They already win!"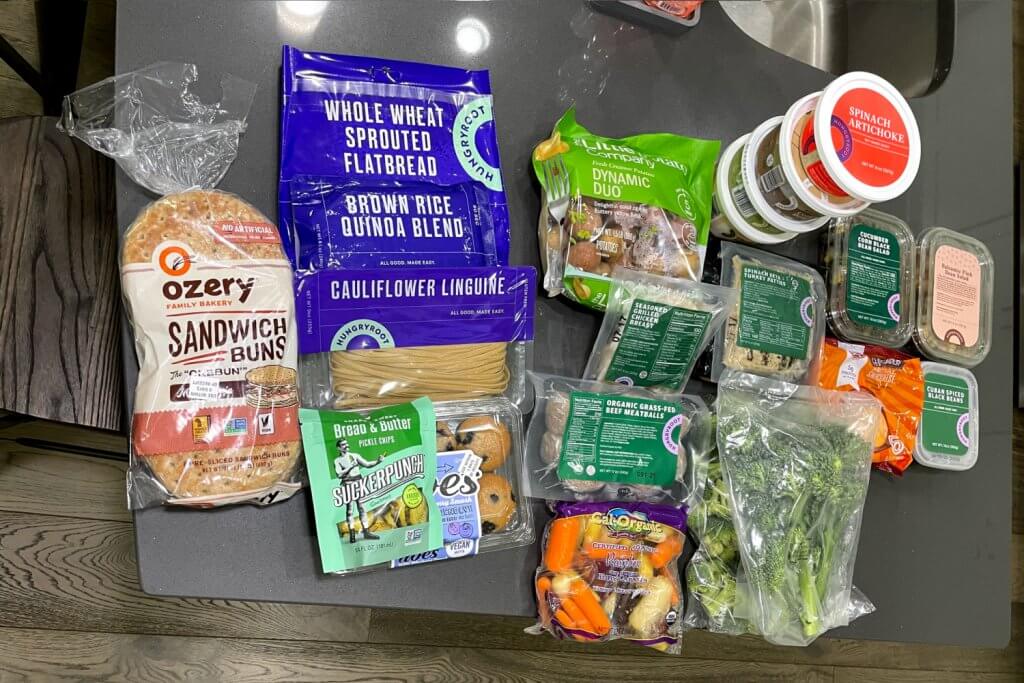 Recipes were printed together on one page, were incredibly simple, and all promised to require only fifteen minutes to prepare. They can promise this because all meat comes pre-seasoned and pre-cooked, with instructions to warm it on the stovetop.
The first meal, a spicy chicken panini, received rave reviews from my entire family. The rest, however, were a bit mixed, with my husband being the only one who enjoyed the flatbread and my daughter and I devouring the pasta alone.
And of course, I was the only one who ate the broccoli black bean burrito bowl. My family couldn't consider eating anything too healthy…
The general consensus on Hungryroot was that some of the meals were fantastic, some were okay, and all of the snacks became new favorites. (Their almond chickpea cookie dough was immediately declared my husband's all-time favorite cookie.)
We also enjoyed that the meal ingredients provided us with several leftover staples, like sandwich rounds, spinach, and artichoke dip.
If you're going for pure health and mostly fantastic taste, Hungryroot is for you. They allow you to experience the warm fuzzies that come from cooking your family a meal without the majority of actual cooking falling to you.
We appreciated feeling as if we enjoyed a family-style meal rather than the pre-portioned, microwavable meals provided by Factor and Freshly.
After our first healthy meal delivery experiment, I ordered again from Hungryroot, just two meals per week plus snacks. I'm enjoying the ease they provide in adding some healthy variety to our family's menu.
Want a discount code to try it for yourself? Use special code WMSMGSUX to get $50 off your first Hungryroot delivery!
Factor's Healthy Meal Delivery
Factor's biggest differentiator is that they're a "keto" meal service, meaning meals are high in healthy fats and low in carbs to adhere to a ketogenic diet. So their food might not be the best fit for you if you don't care to follow a keto diet.
Because I ordered 10 meals/servings (plus snacks) from Hungryroot, I aimed as close as possible to that amount of food with Factor…to attempt to provide a fair price comparison.
When you first start an order with Factor, you'll be asked how many meals per week you'd like them to provide. I went with 12, which came out to $98 with free shipping after my discount codes.
Factor allows you to either review all available meals for a given week or view them through filters such as "Ketogenic," "Low Calorie," or "Plant Based."
You can easily review meal ingredients and nutrition facts by clicking the "See Ingredients & Nutrition" prompt that appears when you hover over each meal.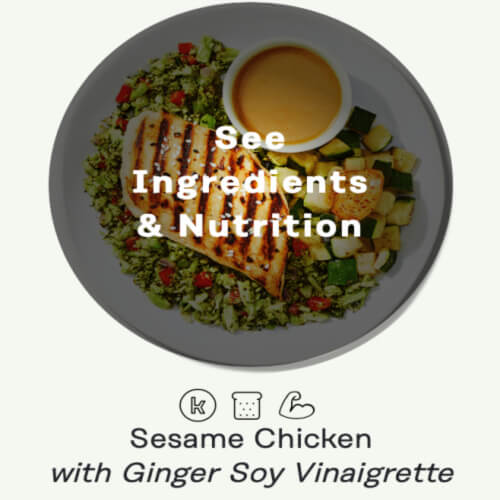 Because meals are ketogenic and therefore high in healthy fats, most calorie counts landed in the 500-800 calorie range.
But these meals were huge. I couldn't bring myself to finish several meals, like the breakfast enchilada bake.
Meals arrived nicely packaged in a refrigerated box. All meals provided instructions for both microwave and oven warming options, which was unexpected and absolutely appreciated!
One thing that really stood out to my family about Factor was that every meal was fantastic! Sure, they were pre-made meals, but they didn't taste pre-made for even a second.
Ingredients were fresh and delicious, and everything just tasted…clean…healthy. Every Factor meal we ate made us feel like we were doing something healthy for our bodies just by eating dinner.
However, I did notice that not all meals met ketogenic diet requirements, which would be a huge consideration for those counting macros!
For example, when I entered the breakfast enchilada bake into my macro tracker, I found it was only 55% fat, 23% protein, and a high (for keto) 22% carbohydrates. Each meal's macros should definitely be reviewed prior to ordering.
In the end, this is a service that my husband requested we pick back up after our healthy meal delivery experiment had ended. He enjoyed the meals and knowing that he was putting nutritious foods into his body, and felt the price was fair and a much better alternative to eating out.
Want a discount code to try it for yourself? Use this link to get $40 off!
Freshly's Healthy Meal Delivery
After experiencing such success with Factor, I was most excited to try Freshly since they offered healthy, but lower-calorie, options. Freshly was similar to Factor in that you chose how many meals you'd like to receive, then selected specific meals on the next page.
I chose 10 meals and landed on just over $108, easily the most expensive option of the three.
Unfortunately, Freshly delivered disappointment from the start.
First, they substituted four of my ten meals (with three of the substitutions being the same meal) without first informing me. I simply received a refrigerated box with three portions of homestyle chicken and said, "Wait…what?!"
When I initially messaged them to inquire, they didn't respond to my message at all. However, I did notice they issued a credit of $22.73 to my checking account.
I chatted back in since $22.73 out of $108 didn't seem an adequate refund when I (a) had no intention of eating homestyle chicken three days in a row and (b) personally hate steak, rendering the fourth substitution of peppercorn steak useless. The support representative was friendly and understanding and issued me an additional $22.73, bringing my refund total to $45.46.
I asked if this was their normal process. I received no call or email as to my preference for substitutions and not even an email to alert me of the swaps. They informed me they were experiencing ingredient shortages and didn't expect it to happen again though if it did, they "might try" to contact me about it.
After two successful experiences with our family's healthy meal delivery experiment, my daughter dove headfirst into Freshly's "homestyle chicken"…then frowned after a few bites. She decided they weren't very tasty and asked me if she could eat a PB&J instead.
My husband, who had so enthusiastically tested Hungryroot and Factor, refused to try any Freshly meals. He said they looked unappetizing and that he had no interest in even trying them. I tried several of their meals, underwhelmed with each one but pushing through so as not to waste food.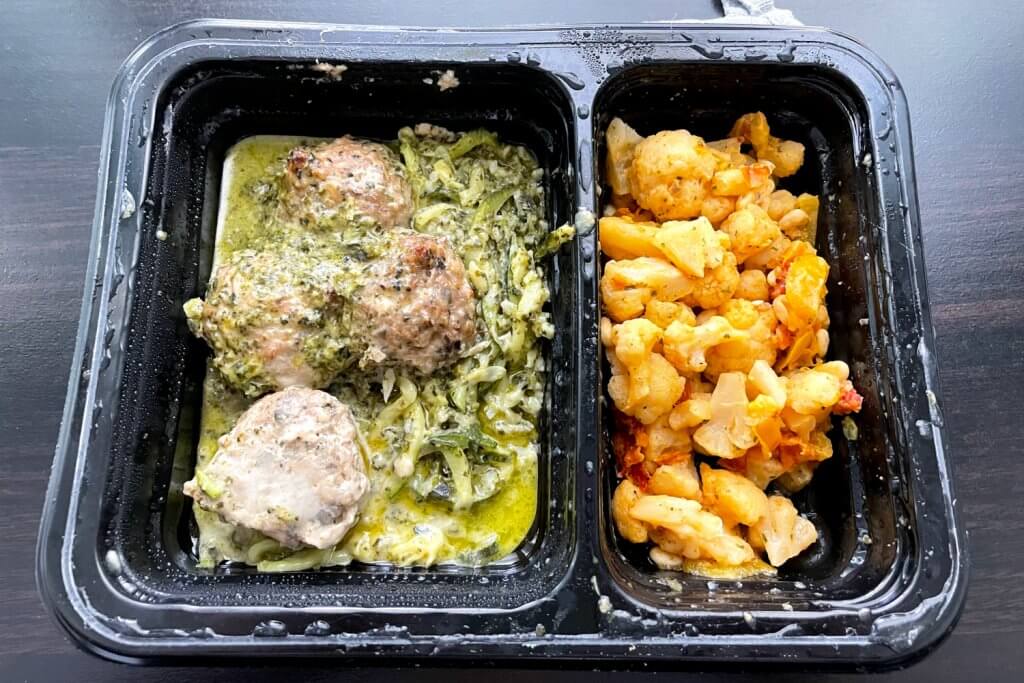 Frankly, I've had frozen Lean Cuisine dinners that were more appetizing than Freshly's meals. And I can purchase those for a few bucks a meal, even less when there's a sale or coupon available.
I would attempt to find a discount code for you to try Freshly, but I wouldn't want you to waste your money.
And there it is – the pros and cons of three of the most popular healthy meal delivery services! I hope you can save a little time, effort, and money with these reviews.
What healthy meal delivery services have you tried lately? And what were your thoughts? Be sure to share in the comments!
P.S. Ready to take charge of your health, but looking for a totally doable approach? Our free "Get Fit Starter Pack" includes six fantastic resources to help! Get yours HERE!
Disclosure: While all opinions are our own, we are a participant in the Amazon Services LLC Associates Program and other affiliate advertising programs, designed to provide a means for us to earn fees by linking to Amazon.com and affiliated sites, at no additional cost to you.