Christians shouldn't struggle or need help with depression.
Satan is attacking you. Rebuke him!
Pray harder.
Read more of the Bible.
Just give it to God.
These were the things I heard when I desperately needed help with depression.
No real answers, just a confirmation that I was truly as alone as I felt.
Help With Depression Through Biblical Truths
The good news is that God is no stranger to depression. He has been supporting His children through depression, and helping them to recover, since Old Testament times. We can and should embrace several Biblical truths during depressive episodes:
First, well-known believers, and even Jesus, have suffered with the emotions that you're facing. King David talks about being on a "diet of tears" and "in the dumps" (Psalm 42, MSG). Elijah, "wanting in the worst way to be done with it all – to just die", asked God to take his life (1 Kings 19). Paul shared he was "under great pressure, far beyond our ability to endure, so that we despaired of life itself" (2 Corinthians 1:8, NIV). Jesus was despised and rejected by others, talked about behind His back, betrayed by His closest friends, and ultimately tortured and killed.
Second, God has never, and will never, leave your side. He has only forsook one man, and that was Jesus (Matthew 27:46, MSG). He is always with you, even when you can't feel His presence. Psalm 22:24 promises, "He has never let you down, never looked the other way when you were being kicked around. He has never wandered off to do his own thing; he has been right there, listening." God himself promises in Isaiah 43:2, "When you're in over your head, I'll be there with you. When you're in rough waters, you will not go down. When you're between a rock and a hard place, it won't be a dead end."
Third, God does not condemn you in this dark place, but offers love and sympathy. Romans 8 promises both that there is no condemnation for those who belong to Jesus, and that nothing can separate us from God's love. While we beat ourselves up for not being able to "get it together", God doesn't offer condemnation or judgement, but sympathy, love, and help with depression (Psalm 103:3-16).
Fourth, you must choose to allow God's truths to determine your reality. You have to make a conscious decision to believe God's word over your experiences or emotions. In Lamentations 3, Jeremiah shared in detail the dark times he was facing. But in verses 21-24, he turned his eyes to God's truths: "But there's one other thing I remember, and remembering, I keep a grip on hope. God's loyal love couldn't have run out, his merciful love couldn't have dried up. They're created new every morning. How great your faithfulness! I'm sticking with God (I say it over and over)." God's word was true in the good times, and it's still true in the bad.
Fifth, God has provided us with community, so we can help one another. Galatians 6:2 instructs Christians to "stoop down and reach out to those who are oppressed. Share their burdens, and so complete Christ's law." Romans 12:15 agrees, "Laugh with your happy friends when they're happy; share tears when they're down." Depression can deepen when we suffer through it alone. Reach out to a believing friend or family member, a small group leader at your church, or a pastor. Because people are generally uncomfortable with pain, some friends may try to gloss over your pain or take it away, in an attempt to help you. It's okay to ask them to simply sit with you through this season, rather than attempt to fix things.
Sixth, don't always focus inward, but turn your attention to meeting the needs of others. In Isaiah 58, God's followers were facing dark times. He responded to their pain in verses 7-8: "What I'm interested in seeing you do is: sharing your food with the hungry, inviting the homeless poor into your homes, putting clothes on the shivering ill-clad, being available to your own families. Do this and the lights will turn on, and your lives will turn around at once." The New International Version words it, "Then your light will break forth like the dawn, and your healing will quickly appear." By focusing on and serving others, we can help to spur on our healing.
Seventh, we may not always understand why we're facing depression. We don't know everything. We can't see around corners or behind closed doors like God can. God doesn't promise that bad things will never happen to us, but Romans 8:27-28 assures us, "He knows us far better than we know ourselves, knows our pregnant condition, and keeps us present before God. That's why we can be so sure that every detail in our lives of love for God is worked into something good". God does promise to work our suffering into something good. Because I faced divorce, I have been able to help and encourage thousands of others facing divorce. Because I have suffered with and survived depression, I can write this series on depression, to be a resource for others. Every tear has become a seed, that has grown into something beautiful. Every single tear, redeemed.
And finally, you will not suffer from depression forever. The Bible is full of stories of God bringing dead things back to life, and restoring broken things to their former glory. You may not recover from depression today or tomorrow, but you will recover. Fires eventually burn out, and storms don't last forever. In the meantime, God will give you the strength that you need to persevere (1 Corinthians 10:13). Set your focus on the brighter future to come, and just keep moving.
Many of these truths were inspired by a HeartSupport devotional on the Bible app, Depression: A Devotional for the Wounded Soul. I highly recommend checking it out for a deeper dive!
Wrap It Up
Christians are not exempt from depression, and seeking help with depression is not a reflection on our faith. Jesus himself suffered with the same emotions. But God will never leave your side, and offers you love and sympathy.
As Christians, God has called us to believe His truths over our own emotions, utilize the community of believers for support, and resist focusing only on ourselves. We may not understand the why, but we must trust and believe that our depression won't last forever.
God is here to provide help with depression. He has already seen your recovery, so hold onto His promises. Hold onto hope. You're on your way to victory.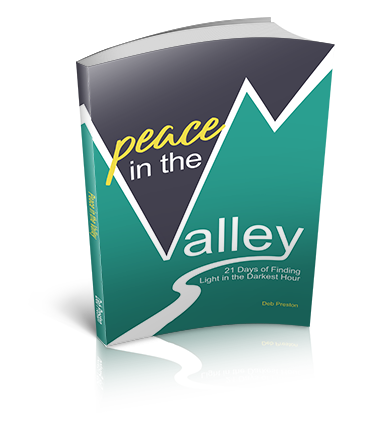 P.S. Looking for some daily encouragement? Our new 21-day devotional is refreshingly honest, down-to-earth, and speaks to the heart of the matter—how can we reconcile our trials with our faith? Check it out here!
*DebTakesHerLifeBack.com cannot act as a substitute for professional advice, diagnosis, medical treatment, or therapy. Always seek the advice of your physician or qualified mental health provider with any questions you may have regarding any mental health symptom or medical condition. Never disregard professional psychological or medical advice nor delay in seeking professional advice or treatment because of something you have read on DebTakesHerLifeBack.com.
Disclosure: While all opinions are our own, we are a participant in the Amazon Services LLC Associates Program and other affiliate advertising programs, designed to provide a means for us to earn fees by linking to Amazon.com and affiliated sites, at no additional cost to you.