Why Knowing How to Choose a Charity Matters
Did you know that a report conducted in 2013 found that 74% of the 115 athlete-founded charities investigated didn't meet acceptable nonprofit standards according to the top 3 charity watchdogs? Have you heard the accusations that the American Red Cross raised nearly half a billion dollars to rebuild after the 2010 Haitian earthquake, but only built six permanent homes? A huge part of practicing community is donating to local and global causes. But with stories like this in the news, you might be wondering how to choose a legitimate charity. Or how to choose a charity that will spend your hard-earned cash wisely.
We're responsible for helping the community we live in and the people in it in any way we can. Philanthropist Ron Conway said:
I believe that we all have a responsibility to give back. No one becomes successful without lots of hard work, support from others, and a little luck. Giving back creates a virtuous cycle that makes everyone more successful.
Not only is it our responsibility to give back, but charities are counting on us! In 2016, 72% of total charitable giving came from individuals, and not corporations looking for tax breaks. So if you're ready to start giving back and wondering how to choose a charity, read on!
First, consider any organizations that have benefitted you directly.
My church benefits us spiritually several times a week through both services and small group meetings. My local library benefits my daughter and me weekly through their adorable and educational storytime. They also offer free monthly events for families. Although not required, it's always fitting to give back to those places that might have given to you.
Second, consider organizations with causes close to your heart.
With a background in exercise science, I tend to lean toward organizations supporting medical and health causes. As a mother, the thought of not being able to provide my daughter with basic needs is heartbreaking. So I love supporting kids' needs both locally and globally.
Have a cause close to your heart but unaware of organizations that support it? Try using websites like guidestar.org, charitynavigator.org, or good old-fashioned Google to find potential nonprofits.
Third, review each organization's description, mission, and goals.
This information can usually be located on their website or through Guidestar or Charity Navigator. Narrow your choices down to a few that fit well with your values.
Fourth, verify nonprofit status.
If you'd like your donation to be tax-exempt or want to ensure the organization is held to stringent oversight and reporting requirements, verify that they are registered as a 501(c)(3) nonprofit. You can use the IRS website to confirm.
Fifth, research what percentage of your donations will go toward programs versus overhead.
There are disagreements about the merit of using overhead percentages to evaluate an organization. However, most agree that spending more than 35% on overhead is a red flag. An organization may be sincere in its motivation but wasteful or ineffective with finances.
And finally, don't limit donations to money.
Think outside the box. Many organizations are desperate for those willing to donate their time or skills to their cause.
You can also donate new or gently used clothes or household items, blood, plasma, hair, and more. Don't allow your financial situation to keep you from giving back if that's what's in your heart.
Some of My Favorite Charities I Found Using These Guidelines
What charities have I found over the years using these guidelines for how to choose a charity? Here are a few of my favorites.
For 46 years, this organization has worked side-by-side with local leaders in poverty-stricken communities worldwide. They provide resources like clean water, medical aid, food, equal educational opportunities to girls and boys, and vocational training. They exit communities when they've reached a self-sustainable state.
You can choose to sponsor a child or donate a specific item through their gift catalog. For example, you can spend $2.50 on plastic shoes to protect kids against parasites or $41 to feed a family for a month.
In addition, they usually have a matching grant running from the United States Agency for International Development. Currently, the grant is x22, so donate $1 on this page and your $1 will turn into $22. Now that's a deal!
This organization provides shoeboxes filled with small toys, clothing, hygiene items, and school supplies to children in over 100 countries who wouldn't otherwise receive Christmas gifts. You fill a box for a specific gender and age range and drop it off at a local collection station.
This was one of my favorite holiday traditions growing up. It taught me that I had a responsibility to help those in need. It was also a fantastic cultural experience to learn what children around the world wanted and needed. Plus, with new technology that we didn't have in the 80s, you can now track your box to see what country it lands in!
I discovered this organization while researching for my Non-Profit Management class in school. I was blown away by their mission, operations efficiency, and the wide variety of programs offered.
They provide free monthly distributions of healthy, shelf-stable foods to elders through the Healthy Options Program for the Elderly (HOPE). They also coordinate several programs to provide food to children who lack a dependable source of nutritious meals on evenings, weekends, and summer break.
Their Food Rescue program collects and distributes millions of pounds of nutritious food that grocery stores, manufacturers, distributors, and farms would otherwise discard. The whole organization is just so darn thoughtful and thorough in meeting the community's needs.
I personally visited and toured a Ronald McDonald House as part of an interview and was deeply moved by their mission. They provide a "home away from home" to families of seriously ill or injured children receiving treatment far from home.
Amazingly, they provide it at little to no cost to the families. This includes home-cooked meals, private bedrooms, and playrooms for children.
The charity also provides family rooms in many hospitals, where families can "rest and regroup." These rooms usually offer a small kitchen area, shower and laundry facilities, sleeping rooms, and internet access.
Now You Know How to Choose a Charity
It is both our duty and our privilege to support those in our community and around the world. When deciding how to choose a charity, consider organizations that have benefitted you or support causes close to your heart.
Review each organization's description, mission, and goals. Verify their nonprofit status and overhead costs, and don't limit donations to money. Let's give back and work together to make everyone more successful!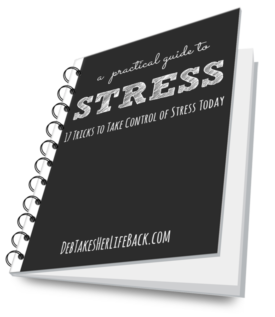 P.S. Ready to break up with stress? Our free guide is chock-full of crucial info and practical tips, plus links to helpful apps, posts, and other fantastic resources! Download it here today!
*Updated March 5, 2021.
Disclosure: While all opinions are our own, we are a participant in the Amazon Services LLC Associates Program and other affiliate advertising programs, designed to provide a means for us to earn fees by linking to Amazon.com and affiliated sites, at no additional cost to you.