Several years ago, I had a sudden and powerful itch to go back to school as an adult. I enrolled in the very next semester with enthusiasm and hoopla…and immediately felt panicked and overwhelmed as the semester started. I hadn't attended school or completed homework in over ten years! And now I was trying to do it while also working a very complex and time-consuming full-time job.
I doubted myself, read and re-read chapters that still made no sense to me, and asked myself why I ever thought going back to school as an adult was a good idea. But then I adjusted…and failed…and adjusted again…and thrived!
I completed my Master of Arts in Management and Leadership within two years and finished with a 4.0 GPA. I did it! And you can do it too! Here's what helped me gain my degree while minimizing stress as much as possible:
Accept that your life is going to drastically (but temporarily) change…and that it's worth it.
First things first, you're about to embark on a pretty radical change. Going back to school as an adult will change your day-to-day schedule.
It will claim your lunch break at work and your late-night binge-watching. It will require sacrificing a decent chunk of time that was otherwise devoted to hobbies, exercise, or even time with family and friends. You might need to wake up earlier and/or stay up later than you're accustomed to in order to get the job done.
Repeat after me: This is a short phase. It will be over before I know it. It will require a big change but the results will be worth it!
My master's degree required two years of planning around homework and finals. By the end, even my husband was tired of my school schedule and he wasn't even doing the work.
But a few years later, it feels like just a tiny blip in my path. And I've been reaping the benefits – performing better in my role, sharpening my writing skills, advancing with my employer, and more – ever since.
It's going to require sacrifice, a shifting of your entire life, for a short period. The more you can accept and even embrace that fact, the better off you'll be.
Think backwards when choosing a degree.
This one got me with my bachelor's and I wasn't about to make the same mistake again with my master's! Think about the career you want, learn what education that career requires, and enroll in that.
In contrast, I obtained my Bachelor of Science in Health and Exercise Science because it was interesting to me. I enjoyed learning about exercise, nutrition, and physiology and loved completing an internship as an athletic trainer for our school's basketball team. Then I graduated…and had no idea what to do with it.
I ended up managing a children's gym for a few years, then completing stress tests for a cardiology clinic, then doing physical therapy for a chiropractor…and not enjoying any of it. I also realized my degree tended to pigeonhole me in roles with no opportunities for advancement. After all, if you were the best exercise physiologist at the clinic, you weren't promoted to doctor; you continued as an exercise physiologist…for the next 20 years.
When it came time to land on a degree for my master's, I asked myself what I wanted to do (advance up the management chain at my job), talked with people in those roles to ask what they suggested would be most practical and beneficial, and chose my degree from there. Don't waste time on a degree that ends in a job you don't want.
Think bigger.
Most people will think of their local college first when they consider going back to school as an adult. They likely know many people who've attended there and can share their experiences.
But don't limit yourself to just those colleges that you know! I was surprised to learn that a university in Virginia offered a fully online program that not only met my career needs in Texas but also taught from a faith-based perspective!
Be careful though, to do thorough research. There are a few well-known online schools that will charge you an arm and a leg for a degree that comes with no real or practical knowledge.
For example, Mvorganizing.org notes, "University of Phoenix has been called a 'pay for degree school.' One Yelp review says 'Bottom line, University of Phoenix degree is worthless in [the] real world. Fifty-eight percent of users on Grad Report would recommend the school to a friend, and another 59% say their degree from Phoenix has helped their career.'"
Know yourself.
In-person? Online? You need to take a serious self-assessment to decide which setting will serve you better.
For some people, having a set class schedule where attendance is taken and factored into the grade motivates them to get there and do the work. Being able to talk in person with their professor and classmates provides them with the resources and encouragement they need to keep pushing forward. And for some parents, leaving the house is the only way they'll be able to focus on their studies.
Others know there's no way they'll make it to in-person classes. They know they do their best work late at night or squeezing homework in on their lunch break.
And how many classes should you take at once? Some people want to knock it out as quickly as possible and will be more motivated while in full-time student mode. Others (myself included) know they can't juggle more than one or two classes at once while still maintaining their sanity.
Be honest with yourself. Go with the scenario that will best support your success.
Research financial assistance.
Even if your employer doesn't advertise tuition assistance, it may be worth asking your manager. Some companies will cover partial or full tuition if it's to their advantage to do so.
Universities themselves often offer scholarships to adults returning to school. And several grants are available from federal and other resources! This page reviews general grants and suggests a few additional resources for women and minorities returning to school.
Start slow.
When I first signed up for classes, I considered enrolling full-time. After all, I was married and working full-time, but the rest of my time seemed available enough! Instead, I decided to start slow, assess, and adjust accordingly. And I am so glad I did!
It turned out the two classes I signed up for that first semester were overwhelming all on their own. Who knew I would find Corporate Finance so darn challenging? Or that Business Law would require hours of research?
Many people push full speed ahead, fueled by excitement and motivation, then crash and burn because they took on too much, too fast. Don't be afraid to start slow, assess the situation, and build from there.
Utilize all of the resources available to you.
My current employer will help pay towards your school loans on a monthly basis…even if you didn't obtain your degree while employed by them…and even if your degree is in an unrelated field! It's clearly displayed in the "benefits" section of our employee page, yet so many of my coworkers are surprised to learn it exists. They've worked there for years and missed out on thousands of dollars just because they didn't take the time to explore all of their benefits.
People can make this same mistake in school. My classes required loads and loads of research papers, which left several of my classmates struggling with their writing. If they had read the resources we were provided upon enrollment, they would have known we had free writing coaches available to us!
You had better believe I made full use of the university's career and writing center coaches. I also didn't hesitate to email my professors regularly with questions.
Don't struggle alone unnecessarily. Thoroughly review all resources available to you.
And if you're still struggling after taking advantage of those resources, talk with your professor or academic coach. They want to see you succeed and offer a wealth of knowledge just waiting to be tapped.
Ditch distractions.
When it comes down to the dirty work, the reading and researching and writing that school requires, ditch distractions as much as possible! You and I both know that checking that one teeny tiny notification on your phone can turn into checking all notifications…which can turn into scrolling Facebook for 30 minutes before you even realize what's happening.
Going back to school as an adult is not the time for casual multitasking. I tended to leave my phone in the other room when it was time to do homework.
I also sat in my office to focus on it, free from the distraction of what was on TV or what my family was doing at that moment. You can still finish your schoolwork in between episodes of The Handmaid's Tale, but it's going to take you a lot longer and will likely happen with more frustration and stress than necessary.
Going back to school as an adult doesn't have to be overwhelmingly stressful. By thoughtfully choosing your school and degree, starting slow, and taking advantage of every resource available to you, you'll be done, degree in hand, before you know it!
Have any tips for going back to school as an adult? Be sure to share in the comments!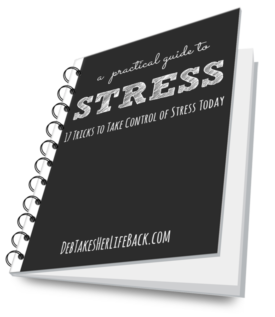 P.S. Could you use a little help managing stress? Download our free guide to help you develop a game-changing stress management plan HERE!
Disclosure: While all opinions are our own, we are a participant in the Amazon Services LLC Associates Program and other affiliate advertising programs, designed to provide a means for us to earn fees by linking to Amazon.com and affiliated sites, at no additional cost to you.