Why I Want and Need a Simple Skincare Routine
I am seriously lazy when it comes to skincare. When I say "lazy", I mean it was only a few years ago that I finally started taking off my makeup before going to bed. I'm also really picky about where I splurge. If I have an extra $300, I'd rather spend it on a weekend getaway or home project, not on a high-end skincare regimen. But I do want beautiful skin. Taking a few minutes for self-care, and seeing a smooth, even complexion in the mirror, both give my mood a huge boost. I wanted healthy, glowing skin for as little effort and investment as possible. So I researched skincare, tested boatloads of products, and finally landed on a simple skincare routine that leaves me glowing without breaking the bank. Each product not only costs less than $10, but also comes with a huge fan base and killer reviews.
*This post does contain affiliate links, which means I receive compensation at no additional cost to you if you make a purchase using a link. However all products are my personal favorites, and can be found in my own bathroom. All opinions are my own.
Simple Skincare Routine – Just the Basics
So what's the minimum amount of work you can get away with, while still enjoying beautiful skin? Just three steps should do the trick:
First, cleanse. You'll want to start by removing makeup, dirt, and oil from your face and neck. If you're like me, and not really into the whole water-running-down-your-elbows-all-over-the-bathroom-counter situation, then consider facial cleansing pads. I personally love Desert Essence Tea Tree Oil Facial Cleansing Pads in the mornings. The ridges pick up more makeup and dirt than any other pad I've tried and man, do they make your skin feel fresh! At night, Clean & Clear Night Relaxing Cleansing Wipes are my jam. I mostly love how amazing they smell – very spa-like and calming as you're winding down for bed.
Second, tone. Toning is often overlooked, but is touted by many experts as one of the most important steps in your routine. Why? Cleansing strips your skin. Toner completes the cleansing process by lifting the last of your makeup and dirt, plus restores your skin's neutral pH balance. And a neutral pH level means healthier, glowing skin. My personal favorite is Teddie Organics Rose Water Facial Toner.
And finally, moisturize. Moisturizing keeps your skin looking smoother, more hydrated, and visibly younger. I battled dry, peeling skin on my face for over 10 years. After trying every drugstore moisturizer available with no luck, I finally found the solution online. I now use Puritan's Pride Hyaluronic Acid Beauty Cream in the morning (Hyaluronic acid is one of the main ingredients in lots of expensive anti-aging creams!) and their Retinol Cream at night. I'd love to use the retinol cream in the mornings too, but it's a little thick to wear under makeup.
Simple Skincare Routine – If You Have an Extra Minute
Now sometimes, I'm feeling a little fancy. Not fancy enough to add an extra 10-step facial to my routine, but a little fancy. So what minimal effort add-ons will give you the best bang for your buck…and time?
Exfoliate. Exfoliation combats blemishes and clogged pores, makes skin look younger, and gives you an instant glow. The trick is to only exfoliate two to three times a week, or once or twice if you have sensitive skin. You'll also want to be careful to avoid scrubbing your face too hard. Your facial skin is sensitive. So excessive pushing, pulling, and scrubbing of that skin can cause it to age more quickly. One of my favorite exfoliators is Natural Even Advanced Sea Algae Enzyme Scrub.
Apply SPF. We've heard it a thousand times, the sun damages our skin. The problem is that most SPFs wear off after just a few hours. If you're putting on an SPF under your makeup, chances are good you won't be smearing more over your foundation, blush, eyeshadow, etc., just a few hours later. So what's the solution? A cheap mineral veil with built-in SPF that you can dust over your makeup every few hours. BareMinerals Mineral Veil is a popular option, but L'Oréal Paris True Match Loose Powder Mineral Foundation is a close second for half the cost! It's hard to argue with that price.
Apply eye cream. Our eyes are often the first part of our face to show age, thanks to thinner skin and constant movement. So why not use your regular moisturizer under your eyes? Because most facial moisturizers are heavier, which can increase fluid retention and eye puffiness. Proper eye creams and treatments will decrease puffiness and discoloration, stimulate collagen production, and prevent free radical damage. I personally use Puritan's Pride Hyaluronic Acid Serum to keep my eyes looking fresh.
Even Simpler Skincare Routine
Since our goal is to minimize effort and cost, why not knock out a few steps at the same time? If you find a cleanser that also promises pH balancing (like Alpha Skin Care Refreshing Face Wash), you don't have to use a separate toner. Other cleansers combine cleaning and exfoliating, like L'Oreal Paris Go 360 Clean, Deep Cleansing Exfoliating Facial Scrub. A lot of foundations and moisturizers have SPF built-in. Consider L'Oreal Paris Futur-e Moisturizer Facial Day Lotion SPF 15. Using combination products can help you to max out the effectiveness of a simple skincare routine without adding additional work.
Wrap It Up
So in conclusion, cleansing, toning, and moisturizing will get the job done. If you have time and energy to spare, exfoliators, SPF protection, and eye creams can be uber effective additions to your routine. Utilizing combo products that knock out several steps at once will save time and maximize results.
You can enjoy healthy, glowing skin with a budget-friendly, simple skincare routine. Do you have any skincare favorites? Share in the comments below!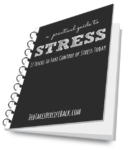 P.S. Your stress levels also have a huge impact on your skin! Are you ready to break up with stress? Our free guide is chock-full of crucial info and practical tips, plus links to helpful apps, posts, and other fantastic resources! Get it here today!
Disclosure: While all opinions are our own, we are a participant in the Amazon Services LLC Associates Program and other affiliate advertising programs, designed to provide a means for us to earn fees by linking to Amazon.com and affiliated sites, at no additional cost to you.