If you're pregnant or love someone who is, you've likely considered creating a Target registry for babies. But maybe you're wondering if Target has the best registry options for you!
I mean…how do baby registries work at Target? And does Target give a discount on baby registry items? What is in the Target baby registry welcome kit? And when will this baby ever come out?!
While I can't help you with the last question, I've compiled the answers to every question you could ever ask about the Target registry for babies below. In fact, I'm so positive I've covered everything in this one post that if you have a question I didn't address, I promise to answer it personally if you drop it in the comments below. Enjoy!
What are the benefits of a Target registry?
You might want to take a seat…because the list of benefits to both you and your loved ones is long!
A Year of Exclusive Deals
One of the benefits Target themselves highlight is that you'll gain access to hundreds of deals, including a year of exclusive offers on essential baby items, when you join Target Circle. The program is free and comes with benefits like saving 5-50% on your favorite items, earning 1% back when you shop (or 5% when you use your RedCard), and a yearly birthday gift of 5% off a shopping trip.
A 15% Discount on Baby Registry Items
Eight weeks before your baby's due date, Target will email you a 15% off registry completion discount. The best news is that you can use it twice – once in-store and once online!
Wondering exactly when your coupon will show up? Your registry will count down the days for you and send the coupon when the timer hits zero!
A Year-Long Return Policy
Any seasoned Target shopper knows the standard return policy only allows for 90 days to return or exchange a purchase. But items purchased from a Target baby registry can be returned up to one year after your due date!
This provides you with a long runway to determine what you really need and what you don't. (My daughter never used her pacifiers or swing. Who would have guessed?!)
Free Welcome Kit Worth $150+
Once you create a baby registry, Target offers you a welcome kit. This kit is jam-packed with coupons and free samples worth over $150! You can pick yours up at your local Target or get it shipped for free with any online order over $35.
Baby Registry Checklist
Target's baby registry checklist divides items into different categories, like feeding, diapering, and bath, to help guide and better organize your registry creation. It then crosses off suggested items once you've added them to your registry. Take a peek at the checklist here!
Must-Haves
The Target registry for babies allows you to distinguish certain items as "must-haves". This can help to direct loved ones shopping from your registry to know that while you'd like that cute newborn dress, you need a car seat! Target themselves note that items marked as "must-haves" are twice as likely to be purchased as those that are not.
Special Notes
Their registry also allows for you to add special notes, like preferred colors or even sentimental explanations of why you're interested in receiving a specific item. (For example, I registered for a double-wide rocker because I wanted it to grow with my daughter. I imagined us sitting there reading a book together when she was older.)
Huge Variety of Top Brands
Target carries nearly any and every baby product brand you can imagine, including new and popular products. And let's not forget Target's own brand, a lifesaver for reasonably-priced, quality diapers!
Universal Registry
And just in case you can't find the brand or product you're looking for, the Target registry for babies also allows you to add items from other websites!
Gift Tracking
This feature allows you to see exactly who gave what, and if you've thanked them yet. This is especially useful when you're battling baby brain.
Group Gifting
Possibly my favorite, this feature allows guests to contribute toward larger items that they wouldn't otherwise be able to purchase. This is huge for items like cribs, rockers, car seats, and strollers, which can come with heftier price tags.
Page Personalization
Thanks to personalization options, you can add photos to your baby registry, create a custom URL for your guests' convenience, and more.
Convenience For Everyone
By registering at Target, you're making the selection, purchase, and delivery of your registry items super simple for everyone! With 1,800 store locations, free 2-day shipping, order pickup, drive-up, same-day delivery, and a price match guarantee, your guests will be able to easily use your Target baby registry without having to jump through any hoops. Plus guests using their Target RedCard will save 5% on their purchase and receive free shipping!
How do I create a Target baby registry?
How do I sign up for a Target baby registry?
Start by visiting target.com/gift-registry/create-baby-registry! Alternately, you could always visit Target's homepage (target.com), click Registry along the top navigation bar, then scroll down to select "Create a baby registry." Either path will bring you to the same page, where you can click "Create a registry" to get started.
The next page will allow you to either sign into your existing Target account or create one. Once you've created your account, you'll receive an offer to join the Target Circle program (see above) or simply "Skip."
Ah, now you've arrived at the exciting part! Enter your expected arrival date and gender (with options "It's a boy," "It's a girl," "More than one," and "It's a surprise"). The next pages will ask for your and your partner's names, your home address (for shipping) and phone number, and if you'd like to make your registry publicly available.
Complete these steps and you will have officially registered! Next up: Start adding items to your Target registry for babies!
How do I add to my Target baby registry online?
Once you've entered your basic information, you'll come to the next page, where you can click "Manage baby registry". This will take you to the home page below, where I've completely made up a baby gender and due date. (No, I'm not pregnant again. Sorry, Mom.)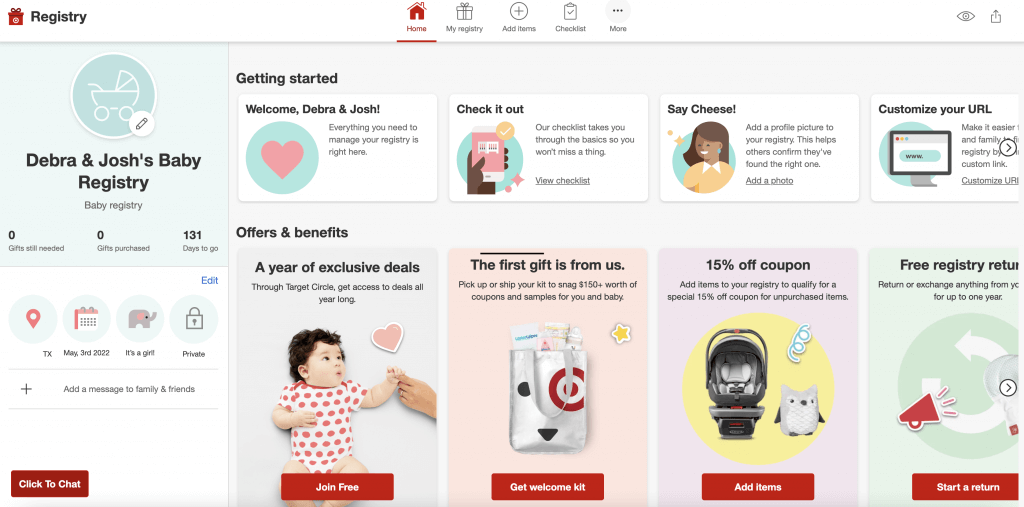 Click the arrows to scroll through "Getting started" topics, where you'll see options to view the baby registry checklist, add a profile picture, customize your URL, track purchased gifts, mark must-haves, add notes to special items, learn more about group gifting, and check out FAQs. Under the "Offers & benefits" header, you'll see options to join Target Circle, snag your welcome kit, add items to your registry, start returns, and explore the universal registry options.
If you're unsure where to start, I would suggest clicking the red present icon labeled "My registry" along the top navigation bar. This will offer a few options to guide you, such as starting with the checklist, viewing Target's "Most added items," and shopping by category.
Can you register in person at Target?
Registering online makes it easier to view all products offered by Target (both in-store and online) as well as their associated reviews. However, you can also create a baby registry in-store by visiting Guest Services.
How do I use my Target baby registry?
How to Use the Registry Checklist
Click "Checklist" along the top navigation bar. Then click the arrows next to each category (parenting, strollers & car seats, etc) to view suggested items. This will expand the category to show you everything you might need.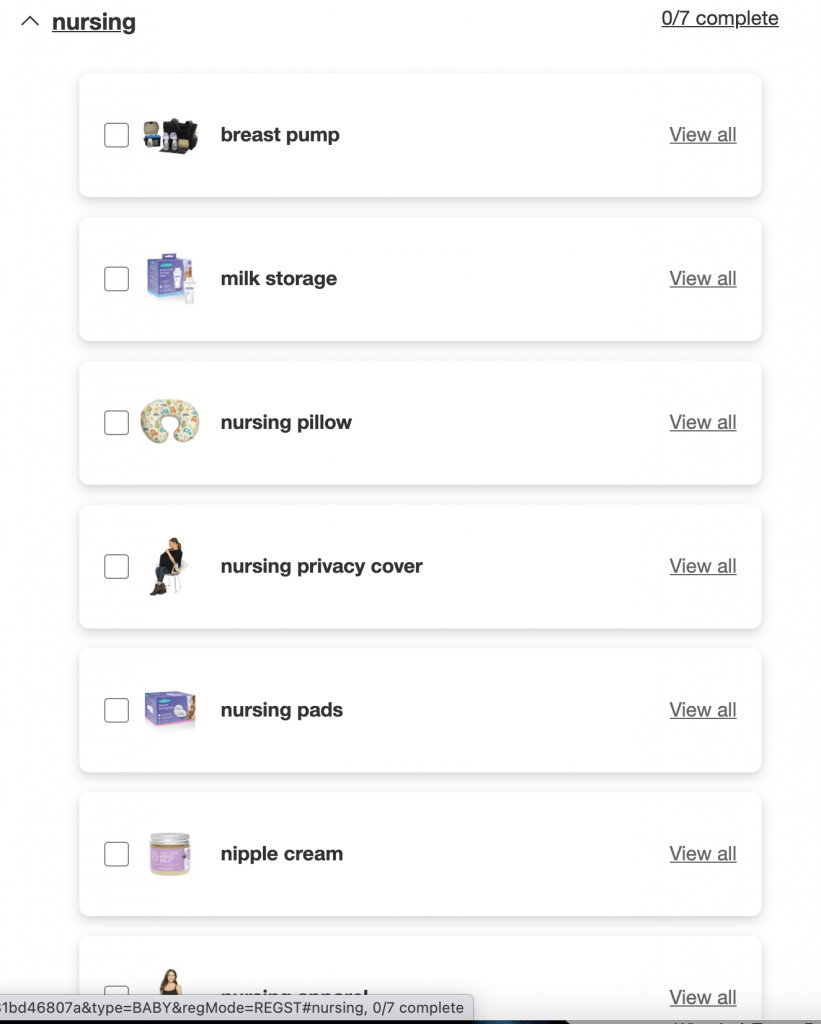 In this example, you might want to explore nursing pillow options. If so, you'd click "View all" next to "nursing pillow" to review the search results on the next page.
Once you've narrowed your search down to your favorite nursing pillow, simply select the "Add to registry" button. Use the back button on your browser to navigate back to the checklist to add more items.
How to Use the Registry Gift Tracker to See Who Bought From Your Registry
From the baby registry home page, you'll see an option to "Track purchased gifts" under the "Getting started" header. Click the "View gift information" button to view gifts shipped straight to your registry delivery address as well as those shipped to gift-givers or picked up in-store. For your convenience, Target also provides a "Thank You Sent" checkbox next to each item to help you keep track.
How to Return a Registry Gift
From the baby registry home page, under the "Offers & benefits" header, you'll see an option to "Start a return." This button will allow you to select the item you'd like to return as well as the store location you'd like to return it to. It will then provide you with a barcode you can show at Guest Services to complete your return.
Per Target's registry FAQ, "Refunds will be issued in the form of a Target GiftCard when using a gift receipt for Registry Gift Purchase Log. If returning an item that hasn't been marked as purchased on your registry, you'll receive a refund in the form of a merchandise return card."
Target Registry For Babies FAQ
How do baby registries work at Target?
Expecting parents create a baby registry either online or in-store and list the items they'd like to receive for their baby. Friends and family can locate their registry, either by using a custom URL or searching registries on the Target website, and purchase those items. Purchases can either be shipped directly to the expecting parent(s) or picked up by or delivered to the purchaser to be shared on a later date.
How does a registry work for a baby shower?
Baby registries allow you to request specific gifts for your baby shower and avoid piling up 24 blankets when what you really needed was a bottle warmer. By directing guests to your baby registry, they can purchase items from your list and either bring them to your baby shower or ship them to you directly. A baby registry also allows for friends and family who don't live nearby to "shower" you with gifts from afar.
What should I put on my baby registry?
While I mentioned using the Target baby registry checklist above, I personally find this list a bit excessive. You can find a more minimalistic list of things newborns need (and things they don't) here. I suggest getting the basics covered first, then exploring other items.
How do I let people know about a Target registry?
You can share a custom link with friends and family by selecting the More (…) page from the top navigation bar and then clicking "Share your registry." From there, you can copy and paste the existing link or create your own unique link by clicking "Customize your link."
If you're sending physical announcements or invitations, you can also print Target's baby registry inserts! You can find the PDF here.
How do you find someone's baby registry?
Friends and family can use a custom URL if the registry creator makes one. Otherwise, they can visit target.com, click on "Registry" along the top navigation bar, then click "Find a registry" on the next page.
They will need to know and enter the parent's registered first and last name to locate the registry. They can narrow down search results by specifying that it's a baby registry in the drop-down "Event type" box.
Does Target give a discount on baby registry items?
While they don't provide an initial discount upon creating a Target registry for babies, they do offer a registry completion discount. This coupon offers 15% off of any items remaining on your registry once you're within eight weeks of your due date.
You can combine this coupon with both Target Circle offers and RedCard discounts, which could bring prices even lower. The coupon will expire six months after the expected due date on file at the time the coupon was issued.
Can you see how many people viewed your Target registry?
You can't see how many people have viewed your Target registry. But you can see what items have been purchased and by whom.
Can you return anything purchased from your registry?
You can return or exchange Target baby registry purchases for up to a year after your due date. But the items must be new, unopened, and in their original packaging. So if you're like me and open all of your pacifiers to wash them ahead of time, you'll need to find another home for your pacies, since Target won't be accepting that return.
How long does Target keep your baby registry?
Gift givers can continue to search for a Target registry for babies for 365 days after the event date. However, registrants can continue to manage their registry for 548 days (18 months) after the event date.
Where is the Target Registry app?
Target has temporarily discontinued this app. However, Target representatives have noted a new and improved app may be available in the future. In the meantime, registries can be managed online at target.com or in-store by visiting Guest Services.
All in all, the Target registry for babies offers loads of benefits and perks that will serve practically any parent well. So…did I miss anything? Please be sure to comment below if I left any of your questions unanswered!
And you? The new parent reading this? You've got this!
P.S. Are you preparing for baby, but trying to keep things practical? Nab our free checklist of the things newborns really need…the ultimate list of basics! Get yours HERE.
Disclosure: While all opinions are our own, we are a participant in the Amazon Services LLC Associates Program and other affiliate advertising programs, designed to provide a means for us to earn fees by linking to Amazon.com and affiliated sites, at no additional cost to you.