I used to be sincerely terrible at committing to a daily Bible devotional. I had this technique of putting my Bible in plain sight somewhere in my house, somewhere I knew I'd notice it. And my idea was that the sight of my Bible would trigger me to spend time reading it that day.
Instead, my Bible took a slow tour of my home. Here's the record player, and this is our kitchen counter. Welcome to the dining room table! Now try the ledge of the office window!
Why is it so hard to consistently practice a daily Bible devotional? And how can we create a Bible-reading habit that we'll actually stick with?
Create a Daily Bible Devotional Habit That Sticks
Most goals, no matter what type, can be approached in the same manner. Here's what works for me:
First, set a goal that you can actually achieve, and work your way up from there. If you try to jump from having no daily Bible devotional for months, to spending an hour every day, you may easily become discouraged if you don't meet that goal. Instead, set a reasonable amount of time to get started…say 10 minutes. You would be hard-pressed to say you couldn't find an extra 10 minutes a day. After a week or two of meeting that goal, bump it up to 15 minutes, and so on. Meeting your (smaller) initial goals will help to build some momentum and fuel your motivation.
Second, read your Bible at the same time every day, preferably a time with little to no distractions. Consistency is much easier to attain if you're following a predictable schedule. I exercise first thing in the morning. I work on my blog every day during my daughter's afternoon nap. Because I've created and practiced these habits for weeks, and even months, they come more easily to me now. I'm less likely to skip those activities because they've become a part of my routine. If you can schedule a consistent time for your devotional within your daily routine, your chances of sticking with it will go way up.
Third, prioritize! Yes, I want to be a strong Christian, have 6-pack abs, drink 26 gallons of water a day, launch my own business, finish 17 different house projects, #goals. But I have to recognize that the most important part of my entire life is my walk with God. If I'm not growing deeper in my faith, my 6-pack and perfectly hydrated skin and multi-million dollar business and perfect house are all going to fail me. So if I have to choose between my devotional time and my workout or next home project, guess which one needs to take priority every single time?
Options For Your Daily Bible Devotional
Next is the big question: What should you do for your daily Bible devotional? You have several fantastic options, all of which I guarantee will deepen and strengthen your faith. The key is going to be choosing the option that you're most likely to enjoy and practice consistently:
Go solo! You can read the Bible on your own, reflect on it, and then pray. A fantastic acronym that was taught at my church is SOAP. You read Scripture and pray that the Lord will cause something to stand out to you. Observe what stood out, then Apply it to your own life. For example, I observed that Martha was too caught up in things that "needed" to be done, and missed the point of Jesus' visit in her home (Luke 10:38-42). I know that I tend to focus on tasks as well, and need to be sure to take the time to prioritize hearing from and spending time with God. Finally, end in Prayer.
Go old school! Do you love the feeling of the printed word in your hands? You could always borrow or purchase a printed daily Bible devotional.
Go digital! The last option is my personal favorite. Download the Bible app on your iOS or Android device. You can also access the app's features through an internet browser at Bible.com. This app has enough different devotional options to last you for years. You can view devotionals grouped by topic, such as new to faith, leadership, marriage, forgiveness, addiction, kids, and more. You can also view devotional options based on emotions, like anxiety, healing, anger, depression, fear, stress, patience, etc. It offers other features to encourage your new devotional habit as well. You can view different versions of the Bible, connect with friends through the app, sign up for Verse of the Day and Bible reading "streak" notifications, and enjoy video or audio devotionals.
Wrap It Up
If you've made it this far, now is not the time to close this post and continue scrolling through your social media feed. Take just 30 more seconds to make this count!
Set a daily Bible devotional goal that you can actually achieve. Decide what time you'll read your Bible every day, and prioritize! And finally, decide what you'll be doing for your daily Bible devotional. Solo? Old School? Digital? You can download the Bible app in less than 30 seconds if wifi's on your side.
If we work on just one area of our lives, it should be deepening our faith. As we draw closer to God, everything else – our family, community, and health – should all begin to fall under His reign. So let's stop taking our Bibles on house tours, and start prioritizing our faith today!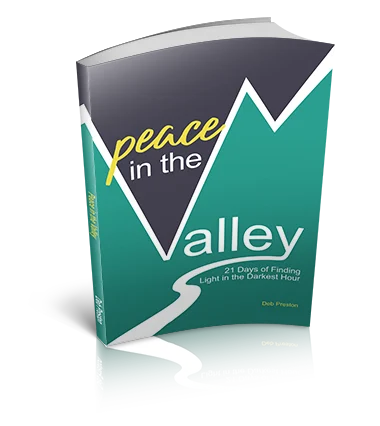 P.S. Did you miss the link? Our new 21-day devotional is refreshingly honest, down-to-earth, and speaks to the heart of the matter—how can we reconcile our trials with our faith? Check it out here!
Disclosure: While all opinions are our own, we are a participant in the Amazon Services LLC Associates Program and other affiliate advertising programs, designed to provide a means for us to earn fees by linking to Amazon.com and affiliated sites, at no additional cost to you.