It's amazing to be a Christian when God performs miracles, isn't it? When he eradicates cancer, brings someone back to life, puts a check in your mailbox for the exact amount you needed to pay your bills. As Madea would say, "Hallelujer!" But…what about when God doesn't heal?
What about the times you pray and pray and your family member still dies? And what about the disease you're still carrying years after claiming your healing? What about those circumstances you're still trapped in months or even years down the road?
Doesn't the Bible say that God heals if and when we ask in faith? So how in the heck are we supposed to reconcile those times when God doesn't heal?
The fact is that despite our favorite church sermons on healing and prosperity, Christians won't always be happy and healthy. We might still struggle with disease and conflict and loss. In fact, it's likely! Why is that?
It's developing something within us.
I'll always remember a church retreat I attended a few years ago. The speaker drew an A and a B on the whiteboard, separated by a short distance. He explained that God is certainly capable of miracles, taking you directly from point A to point B, but that path doesn't usually result in our growth.
Instead, he drew a squiggly line that started at point A, veered up and down, back and forth, and circled back a few times before finally arriving at point B. He explained that on this path, God can do so much in us, and that the lessons we learn there will serve us well both in that specific situation and in the future.
I don't doubt this for a minute. God didn't help me do everything perfectly when I left my job to become a stay-at-home mom. He knew the stress and struggle and failure would teach me so much about myself and my faith and Him.
God didn't wake me up completely healed from the health issues brought on by carrying an extra 50 pounds on my frame. He knew I needed to learn discipline and balance and how to set healthy boundaries for myself. And he knew those lessons would serve me far beyond a number on a scale.
I get it…we'd usually rather take the healing upfront. But unfortunately/fortunately for us, God is a good Father who wants his children to experience something much more meaningful and long-lasting than instant gratification.
It's acting as a witness and example to others.
Don't think for a second that others aren't watching you as you walk through the valley. When they wouldn't blame you for giving up or forsaking your beliefs, your witness will be that much more powerful as you continue to lead by example.
Again, we're usually more concerned with our own healing. Sure, we'd like to lead others to Christ if it's convenient for us, but certainly not if it comes at such a high personal price.
But Jesus called us to make disciples of all nations (Matthew 28:19-20). And Peter warned us that we would suffer for the sake of Christ and his message (1 Peter 3:13-18).
And your experience will provide opportunities to witness long after it's over. Some of my deepest connections with others have been the direct result of our shared suffering.
We'd both worked our way through a divorce. We'd both acted as a caretaker for a family member. Or we'd both struggled with clinical depression.
And that "wow, me too" moment? It's one of the most wide-open doors you'll ever receive to witness to others.
Sometimes it's the result of our own decisions and actions.
My step-grandmother was a Christian scientist. And I'll always remember the day she cornered my little brother in the middle of his asthma attack to demand to know what he had done, how he had sinned to bring on the attack.
This is absolutely absurd and unbiblical. This is not what I'm talking about.
But I am saying that sometimes our valleys are those of our own creation. I experienced a heart-breaking divorce because I insisted on marrying someone I knew wasn't right for me. I experienced a whole host of health issues because I started using food to manage my emotions rather than turning to Jesus and seeking counseling.
I'm reading this fantastic book on boundaries and it's taught me that God created the world in such a way that every action has consequences. And that while he will encourage us to make the right choices, he'll never force us.
And in the same way I allow my five-year-old to be hungry if she insists on not eating dinner, God allows us to walk through the natural consequences of our choices so that we can learn and grow. While it would certainly be nice if God gave us a pass, it is our responsibility to take the necessary actions to reverse those consequences and to avoid them in the future.
We've been guaranteed happiness and healing in heaven, but not necessarily on earth.
The Bible tells us that there will be no pain, no death, no sadness, and no tears in heaven (Revelation 21:4). But God didn't guarantee us the same on earth.
In fact, Jesus promised us in John 16:33 (MSG, emphasis added), "In this godless world you will continue to experience difficulties. But take heart! I've conquered the world."
We live in a fallen world. There's no denying that fact. So, of course, we should expect that life won't always go as we plan or hope.
It is our experiences on earth, our time spent in mortal bodies subject to injury and disease and decay, that make us long for our real home in heaven. They will only make our homecoming that much sweeter and more triumphant. In the meantime, if we actively focus our attention on our eternal home, God can help us view our earthly circumstances in a different, more accurate light.
We've been called to rejoice in suffering.
Ouch. No one likes this calling.
But 1 Peter 4:12-13 (emphasis added) instructs us, "Friends, when life gets really difficult, don't jump to the conclusion that God isn't on the job. Instead, be glad that you are in the very thick of what Christ experienced. This is a spiritual refining process, with glory just around the corner."
Paul explained in 2 Corinthians 1:9 that suffering forces us to rely on God, remembering what he has already done for us and trusting him to do it again. In 2 Corinthians 11:24-30, he shares a powerful testimony of his own suffering:
"Five times I received from the Jews the forty lashes minus one. Three times I was beaten with rods, once I was pelted with stones, three times I was shipwrecked, I spent a night and a day in the open sea, I have been constantly on the move. I have been in danger from rivers, in danger from bandits, in danger from my fellow Jews, in danger from Gentiles; in danger in the city, in danger in the country, in danger at sea; and in danger from false believers. I have labored and toiled and have often gone without sleep; I have known hunger and thirst and have often gone without food; I have been cold and naked. Besides everything else, I face daily the pressure of my concern for all the churches. Who is weak, and I do not feel weak? Who is led into sin, and I do not inwardly burn? If I must boast, I will boast of the things that show my weakness."
Why boast of things that show his own weakness? He explains in 2 Corinthians 12:9-10: "But [God} said to me, 'My grace is sufficient for you, for my power is made perfect in weakness.' Therefore I will boast all the more gladly about my weaknesses, so that Christ's power may rest on me. That is why, for Christ's sake, I delight in weaknesses, in insults, in hardships, in persecutions, in difficulties. For when I am weak, then I am strong."
Yes, God performs miracles every day! But when God doesn't heal, we must remember that health and happiness have never been guaranteed here on earth, but are certainly coming to us one day.
We need to remember that it's developing something in us and bringing others to know God. And we've not only been called to accept that knowledge but to rejoice in it!
Keep your chin up, and your eyes focused even higher, friend. You've got this!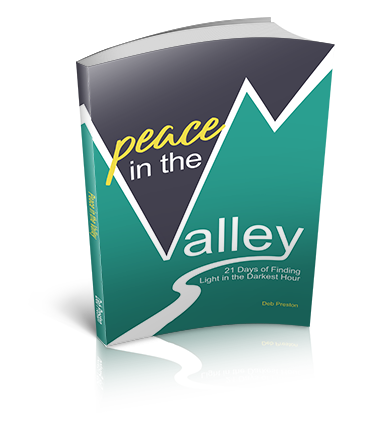 Disclosure: While all opinions are our own, we are a participant in the Amazon Services LLC Associates Program and other affiliate advertising programs, designed to provide a means for us to earn fees by linking to Amazon.com and affiliated sites, at no additional cost to you.