How to Keep a House Clean With Kids – Parenting's Most Frustrating Dilemma
My home used to be spotless. Spotless, people! A clean house has always given me a sense of peace, organization, and motivation.
Then I birthed a tornado, ahem, child, and have since been able to make memes of my living room like the one below. One of parenting's most frustrating dilemmas is how to keep a house clean with kids.
Why am I writing this post if this is my living room? Great question. Because at the end of every day, and whenever guests come to visit, my house looks like this:
And it just doesn't take that much effort. After three years, I've finally figured out how to keep a house clean with kids…at least most of the time, since my daughter spends most of her day at home.
How to Keep a House Clean With Kids – Toy Solutions
Downsize your toys.
The fewer toys your kids have, the less they have to spread all over your house. Bonus: recent studies have found that having fewer toys actually results in healthier, more creative play for toddlers, and deeper cognitive development. It's a win-win.
Look for mess-free options.
We always pay a little extra for washable crayons, markers, and paints that easily wipe off of tables and walls. Our daughter is also a huge fan of Water Wow books, that allow her to "paint" with water, then dry to white, so she can use them again and again.
Looking to get outside? Fill a water table on your back porch or balcony. We throw in some extra bath toys for good measure and our three-year-old acts like we've taken her to a water park. And all mama needs for cleanup is a bath towel!
Designate an activity table.
The purpose of this table is to contain all art projects, block towers, snack crumbs, etc., to a small designated area. You could go the solid color or themed routes, or opt for a table with built-in storage.
We wanted to keep activities in the living room but also preferred our existing adult decor. So we found a table that offered a wood stain to match the rest of our furniture. It wipes down easily, takes a beating, and is higher quality than our actual adult furniture.
If possible, make some toys inaccessible without your help.
My daughter doesn't have easy access to every toy she owns.
A few are stored in tubs on the top shelf of her bedroom closet. Some are in a toy chest that she's not strong enough to open on her own, thanks to our carpets. This limits how many and which toys she can pull out at once without asking me for help.
I like to store blocks, puzzles, and other toys with a million tiny pieces in these places. Then I can assure only one million-piece toy is out at a time.
Find practical toy storage solutions.
Your ideal storage solution really depends on the toys you have.
I originally purchased a large toy chest, a ginormous box with no dividers. That worked while my daughter was an infant, but once she started accumulating more toys, it got increasingly difficult to find specific toys inside.
Enter some cute fabric storage cubes and a few plastic storage boxes. They fit well within the chest, allow for some toy sorting, and make it easy to lift out and play with just one bin at a time.
I like to keep toys hidden from sight but a lot of people prefer them displayed. The internet is full of adorable primary color toy bin organizers, though I'm personally a sucker for mints and teals!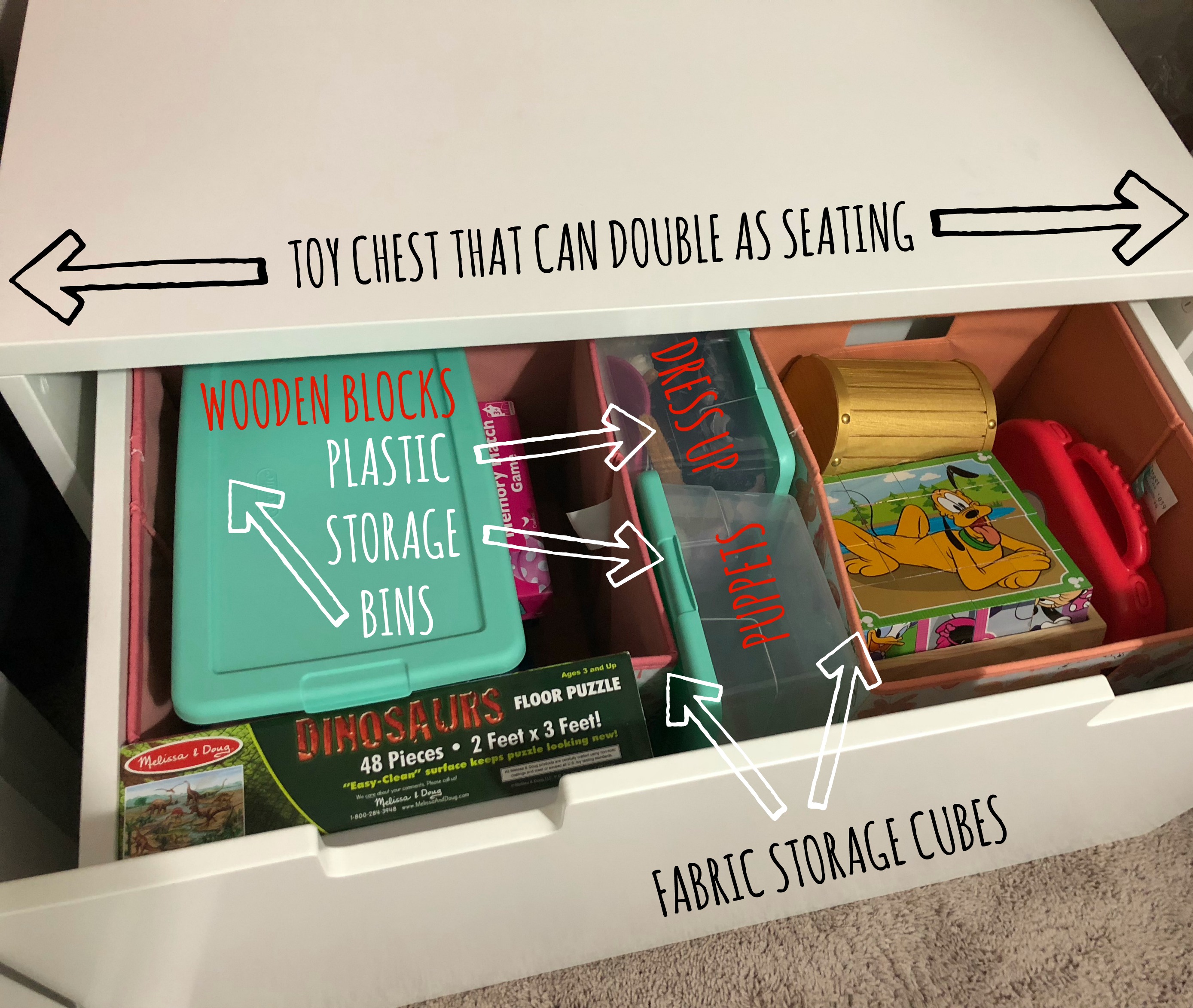 How to Keep a House Clean With Kids – Home Solutions
Put dishes in the dishwasher as soon as you're finished with them.
Of course, I just want to relax after I've eaten something. But if I walk my plate over to the sink before I melt into the couch, I can usually rinse everything easily, no scrubbing required. When I let the dishes build up for several hours, I always have to soak a few and work a lot harder and longer at it.
If you take just a few minutes here and there throughout your day, you won't have 30 minutes worth of dishes waiting for you before you climb into bed.
Pick up around the house every night.
Picking up at the end of each day ensures a fresh start each morning and keeps our mess from slowly building until we're on the next episode of Hoarders.
I don't bother with picking up toys throughout the day. It's like cleaning up while a tornado is still in motion.
But every night, we pick up toys and stray dishes, wipe down any sticky surfaces, and find a home for mail, papers, and Amazon packages that have rolled in during the day. And every time I make the effort, I'm amazed at how little time it takes, especially when I enlist my daughter's help.
Maybe ten minutes? Not bad!
Use a cleaning schedule to spread cleaning throughout the week.
Assign either tasks (dusting, wiping down countertops, vacuuming, etc.) or rooms (living room, kitchen, master bath, etc.) to days of the week. For example, you might dust all surfaces on Monday, wipe down tables and countertops on Tuesday, vacuum on Wednesday, mop on Thursday, and do laundry on Friday.
I prefer to see one whole room completed at a time; it's weirdly satisfying. So I clean our living room on Monday, kitchen on Tuesday, bedrooms on Wednesday, bathrooms on Thursday, and do laundry on Friday.
The idea is to make cleaning feel less overwhelming and time-consuming by doing just a little a day. Want help creating your own weekly cleaning plan? Click here to download free instructions and printables!
Don't fall into the "it's messy anyway" mindset.
It's easy to look around at my toy-strewn living room and lose my mojo to walk my dishes to the sink. Because the house is already destroyed, right? Wrong
I try not to think of my daughter's messes as pure destruction of my cleaning efforts, although they are. Instead, I view her mess as something that will be picked up and put away before she's in bed.
It's just a temporary mess on its way to being cleaned. This helps me to keep doing my part to pick up throughout the day.
And now you know the secret – how to keep a house clean with kids. When you can downsize toys, contain their mess, and find a practical system to pick up the house as you go, you'll be amazed at how much easier it is to maintain a cleaner, more peaceful home.
What have you found helps in maintaining a clean home? Let's chat in the comments!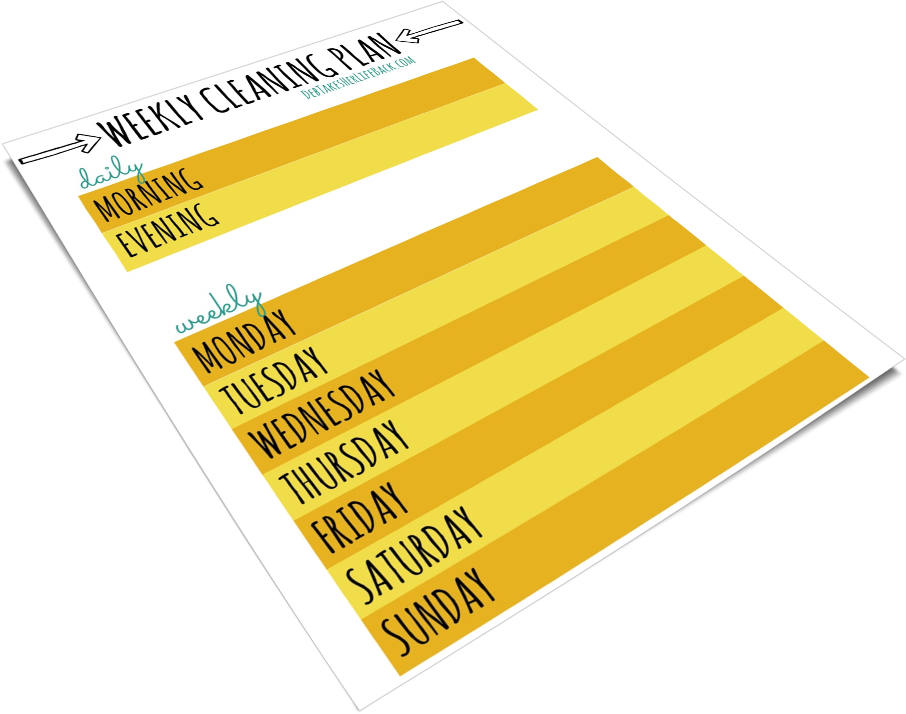 Disclosure: While all opinions are our own, we are a participant in the Amazon Services LLC Associates Program and other affiliate advertising programs, designed to provide a means for us to earn fees by linking to Amazon.com and affiliated sites, at no additional cost to you.