I Am a Precious Child of God Review
I Am a Precious Child of God: Mini Devotionals with Faith-Based Affirmations, written by Misty Black and illustrated by Gabby Correia, offers beautiful, age-appropriate devotionals for children ages 3-8 and their parents.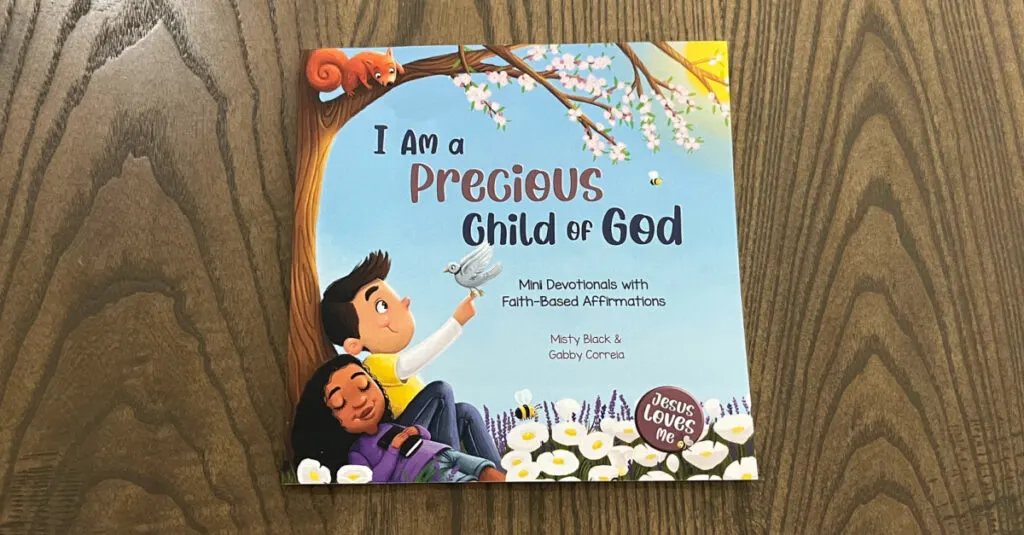 Each page in the book offers a few simple sentences that explain a Christian truth, such as praying to God, finding joy in hard work, or caring for those who are hurting. Bible verse references confirming the truths can be found in smaller print near the bottom of each page for those parents who would like to dig a bit deeper with their children.
Each sentence is then followed by corresponding affirmations, including phrases like "God knows me and hears my prayers," "I can take care of the Earth," and "I am not alone. God will help me." These affirmations take the biblical truths and make them applicable and personal for the child reading them.
Perhaps my favorite part of each devotional is the illustration it uses to convey the truth. These illustrations take what might otherwise feel like a lofty spiritual principle and make it easily relatable to children.
For example, the affirmation "I can say 'I'm sorry' and try again" shows a boy who has accidentally broken his grandmother's vase giving her a card that reads, "I am so sorry." His face appears sincere as his grandmother holds him and kindly accepts the card.
It offers a concrete example that most children will likely encounter at some point – accidentally breaking something while playing. This makes it feel much more conceivable and impactful for young children.
At the end of the book, the author provides several word clouds with affirmations from the book that children can cut out and hang in their room as a reminder. I love this thoughtful touch for expanding upon the message of the book and helping to bring it into focus in day-to-day life.
Overall, this is a beautiful book that parents are sure to enjoy reading, discussing, and putting into practice with their young children. While the book states it's intended for ages 3-8, I feel a hardcover copy would be a beautiful gift for any expecting or new parent as well.
You can find the book on Amazon and can follow author Misty Black on her website, Facebook, and Instagram.
I Am a Precious Child of God Author Bio
Misty Black is an internationally bestselling and award-winning author of children's books. When she's not busy crafting meaningful stories that inspire and delight children worldwide, you'll find her exploring her faith, spending time with her family, or engaging in a friendly competition over her favorite board games. She's only a tiny bit competitive, or so she says (wink).
Her passion for cooking runs deep, as she learned the importance of family meals from her mother at a young age. And while she can brew up a mean pot of soup, she'd be the first to admit that her singing voice leaves much to be desired.
She loves the great outdoors and camping in the mountains. However, she doesn't get to go as much as she'd like, as it's not her husband's cup of tea. But that doesn't stop her from seeking adventure in other ways, mainly through reading and writing.
Her ultimate goal is to inspire a love for reading in every child so they, too, can embark on thrilling adventures without ever leaving the comfort of their own minds. If you're looking for a family-oriented author with a passion for inspiring young minds and a willingness to sing off-key while whipping up a cheesy lasagna, then she's your gal!
I Am a Precious Child of God Author Interview
Want to learn more about author Misty Black? I did too! She was gracious enough to field a few questions and share what's next for her!
Deb: This is such a lovely book! What inspired you to write it?
Misty: Affirmations are so important, and we see books and songs about them popping up everywhere. But I wanted to do something different.
I wanted those affirmations to be genuinely true and meaningful. I wanted them to contain eternal truths about who we are, children of a loving God with infinite worth and purpose.
Deb: Are any of the affirmations in the book especially dear to you?
Misty: I love the one that says, "Jesus is my Savior and my friend." It's so much easier for me to know He's helping me and guiding me when I recognize that He's my friend.
He loves and cares about me and would do anything for me. And I try to be a friend to Him by following Him and sharing His message of love.
Deb: I think lots of parents would like to practice a daily devotional habit with their young children but they're just not sure where to start. Do you have any tips for them?
Misty: Start small. Just a few minutes a day can make all the difference.
This book is meant to be read all at once as a bedtime story or taken one page at a time to ponder it, repeat the affirmations, and study the suggested Bible verses to get the most out of it. One page a day, or reading one verse a day even, can be beneficial and create a habit that will last a lifetime.
Deb: You've written an impressive collection of beautiful children's books. Do you have any personal favorites?
Misty: Grandmas Are for Love is so dear to my heart. I felt like that book just came to me. I wrote it in memory of my dear mother, a wonderful grandma to my kids and now our guardian angel.
I also love my Punk and Friends Learn Social Skills series. I get a lot of ideas for those from the struggles and triumphs my kids have.
Deb: What started your journey as a children's book author?
Misty: I started writing when my kids were little. They would say or do the funniest things, and I wanted to capture that.
I then went on to study writing and children's books in particular. It's been such a rewarding journey.
Deb: What's next for you? Any upcoming projects you're excited about?
Misty: I plan to make this Christian book a series. But I have two books coming out this year in a different series.
One is called This Book Is Your Friend, and the other is The Best Way to Travel. Both promote the love of reading at a young age. Because every child deserves to love reading.
Thanks so much for joining us today, Misty! If you'd like to check out all of Misty's books, you can find them on her Amazon author page. Happy reading!
Disclosure: While all opinions are our own, we are a participant in the Amazon Services LLC Associates Program and other affiliate advertising programs, designed to provide a means for us to earn fees by linking to Amazon.com and affiliated sites, at no additional cost to you.