Have you ever gone through a period of time where you couldn't feel God's presence or hear His voice? It's disheartening, and makes it challenging to continue walking out our faith.
We might even ask ourselves, "What's the point?" What are we supposed to do when we can't feel God?
It's not an unusual experience for believers. In fact, even famous biblical characters have experienced this same absence.
Isaiah says that God turned away from His people for a time (Isaiah 64:1-7), and Psalm 74:9 laments, "There's not a sign or symbol of God in sight, nor anyone to speak in His name, no one who knows what's going on."
Those stories both ended in God's reappearance, and His voice speaking clearly again. So how do we get there?
How do we move from not feeling God's presence to feeling it again? To hearing His voice again?
What to Do When You Can't Feel God
Examine your heart to ensure that sin isn't causing the silence.
First and foremost, make sure your own actions aren't creating a barrier between yourself and God. If God has previously instructed you to stop doing something, or to give something up, or if you're purposely doing something you know is wrong, you might experience His silence until you respond in obedience.
Read the letter He wrote you!
I could write an entire post on just this. It frustrates me when people say they can't hear God, yet never open the letter He wrote just for them…the Bible. Sure, sometimes God will speak directly to your heart, but He'll much more regularly speak to you through Scripture.
No human relationship would survive if one person did all of the talking and never listened to the other person's response. Our relationship with God is no different, and should actually be made up of way less talking and much more listening on our part.
Open your Bible every single day when you can't feel God. (Looking for a little guidance in this area? Be sure to check out 40 Devotionals for Women.)
I know…when you can't feel God, praying can feel like talking to the wall. But we are instructed time and again in the Bible to "pray without ceasing" (1 Thessalonians 5:16, Luke 18:1, Colossians 4:2, etc.), whether we feel God's presence or not.
We must also be careful that our prayers aren't comprised solely of our personal requests. Philippians 4:6 instructs us to bring our requests along with our praise.
Matthew 6:6 tells us that prayer should always shift the focus off of ourselves and onto God. So start your prayer with thanks and praise, then bring your requests, and then ask God to show you how you can serve Him and His purposes.
Need a little direction to get started? Be sure to check out How to Pray | Jesus' Simple Guide + All Your Questions Answered, Guaranteed!
Serve God and others.
When we can't feel God, we often focus all of our efforts on asking what God can do for us, rather than the other way around. And so we excuse ourselves from serving His purposes. First things first, right?
But continuing to seek out opportunities to serve God and others helps us to shift the focus off of ourselves and our feelings (which aren't reliable anyway) and onto a holy God Who is worthy to be honored and served. God may even use your service as an opportunity to connect with you.
Attend church and/or small groups regularly.
When we can't feel God, we often wonder if there's any point to going to church. We can't feel Him anyway, right?
We might also start to pull away from our relationships with those who are connected with God, because we're self-conscious and/or discouraged by the comparison.
But cutting church out of your routine cuts out one more opportunity to connect with God through both worship and studying God's Word. During this time, it's going to be important to create and maintain as many opportunities to connect with God as possible, and to stay connected with others that can support and encourage you in your faith.
Surround yourself with worship music.
The more things you can surround yourself with that point to and focus on God, the better! Worship music is a fantastic way of reminding yourself of God's attributes and truths, and of responding appropriately.
And thanks to the internet, you can find and play it at home, at the office, in your car, anywhere! Again, we want to surround ourselves with as many opportunities as possible for God to speak to and move our hearts, and worship works as an excellent conduit for just that.
Fast.
Fasting is a long-established spiritual discipline that helps to more closely connect us with God and break through spiritual barriers. In Matthew 6:16-18, Jesus gives us instructions for when we fast, not if.
He explains that fasting helps us to "better concentrate on God," and that God "won't overlook what you are doing; He'll reward you well." That's a promise worth acting on!
Keep living and acting in faith.
We're called to walk by faith, and not by sight (2 Corinthians 5:7). So even when God is silent, and even if/when we can't feel God, we keep serving faithfully.
I love how Paul said it in 1 Corinthians 7:17, "Live and obey and love and believe right there. God, not your marital status, defines your life." God, not our feelings or current circumstances, defines our lives.
So keep living like it, going through the same motions and answering the same calling until you can feel God's presence again.
We're Growing in Faith When We Can't Feel God
Although it's difficult to bear, we can trust that God is refining and building our faith during these times. Jesus called us to walk by faith, not by sight.
It's much easier to serve God when He feels near and His voice is directing our every step, pointing out a clear and certain future. But the true test of our faith is when we're walking in the dark and the silence.
Will we still place our trust in God's Word and His promises? This is our opportunity to act on what we say we believe.
We will hear God's voice and feel His presence again. In the meantime, we must create as many opportunities for connection as possible, through reading the Bible, praying, serving God and others, attending church regularly, filling our hearts with worship, fasting, and living and acting in faith.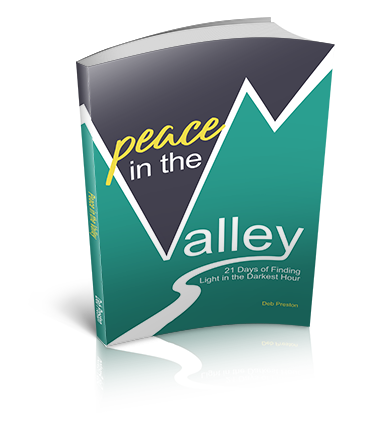 *This post was last updated 10/16/2022.
Disclosure: While all opinions are our own, we are a participant in the Amazon Services LLC Associates Program and other affiliate advertising programs, designed to provide a means for us to earn fees by linking to Amazon.com and affiliated sites, at no additional cost to you.