What is Kingdom Power?
I attended an incredible night of prophecy last week, my first ever! And the speaker said something that has stuck with me ever since. He said there are two types of Christians. First there are believers, sealed for eternity, but never moving beyond the salvation of the cross. Then there are those that embrace Jesus' resurrection, signs, and wonders, who regularly experience kingdom power. They cast out demons, heal the sick, and speak things into existence.
That's what happened in the Bible, isn't it? Jesus and his disciples performed signs and wonders, and healed everyone that asked. 
And the miracles didn't end when Jesus left earth! Because he sent the Holy Spirit to come upon the disciples and empower them. The book of Acts tells story after story of demons being cast out and miracles being performed, through the words and faith of believers empowered by the Holy Spirit.
Can We Still Experience Kingdom Power Today?
That power was never intended to live and die with the disciples! Peter urges us in Acts 2:38-39, "Repent and be baptized every one of you in the name of Jesus Christ for the forgiveness of your sins, and you will receive the gift of the Holy Spirit. For the promise is for you and for your children and for all who are far off, everyone whom the Lord our God calls to himself." 
The Holy Spirit's empowering is for all of us who believe. The Bible tells us that the same Spirit that raised Jesus from the dead dwells in us (Romans 8:9-11, 1 Corinthians 3:16), and that it accompanies our witness with signs and wonders (Romans 15:18-19, 1 Corinthians 2:4).
How to Experience Kingdom Power
So how the heck can we move beyond the salvation of the cross? How can we begin to experience kingdom power in our own lives? I've been working haaaaard to compile some practical advice from the Bible, pastors, evangelists, Bible scholars, modern-day prophets, and other experts in kingdom power. And I compiled those suggestions most consistently shared across the board:
First, become clean and open before God, and choose daily to stay that way. This doesn't mean that God expects us to be perfect. But we must continuously strive to become more like Jesus, putting away gossip, lies, hatred, both the big and obvious sins and those that are socially acceptable. We cannot purposefully live in sin and expect God to display his kingdom power through us.
Second, develop a childlike faith. Jesus teaches in Luke 18:17 that, "whoever does not receive the kingdom of God like a child shall not enter it." And in Matthew 11:25, he prays, "I thank you, Father, Lord of heaven and earth, that you have hidden these things from the wise and understanding and revealed them to little children." In order to experience kingdom power, we must pray that God will help us to humble ourselves and trust him with a childlike faith.

 
Third, recognize and take to heart that God has total authority over everything on earth. He created the earth from nothing, and now holds all power and authority over it and everything in it, from demons, to angels, to circumstances, to all that you can see, hear, and touch (Matthew 28:18).
Fourth, be hungry and thirsty for God, actively pursuing him. Spend time every day in God's word and in prayer. Start in the New Testament, reading how Jesus and the early church operated in kingdom power. Ask God to reveal to you what it means for you today, how you should act, where you should focus your time and energy.
Fifth, align your will with God's. Jesus said in John 6:38, "I came down from heaven not to follow my own whim but to accomplish the will of the One who sent me." Even Jesus didn't pursue his own will on earth. How much more so should we set aside our own plans to pursue the plans and purposes of God? This may mean, as it has for me, sacrificing things that we love, like careers, cities, and some people, and trusting that God has an even greater plan in store. How can we know God's will? One fantastic way is to study the Bible. I love to study how Jesus spent his time on earth. Then I ask God to help me emulate Jesus' example.
Sixth, disregard your own inabilities. Your own strengths, your weaknesses, your past failures, none of them matter. Memorize Jeremiah 32:27 (Behold, I am the Lord, the God of all flesh. Is anything too hard for me?) and Matthew 19:26 (But Jesus looked at them and said, "With man this is impossible, but with God all things are possible."). Commit them to memory and to heart, until they are a part of your deepest-held beliefs.
And finally, be fully convinced. Romans 4:21 says that Abraham was "fully convinced" that God would give him a son as promised, despite his being 100 years old. And the Bible says that Abraham was justified by his faith. Jesus agreed in Mark 11:24 that, "whatever you ask in prayer, believe that you have received it, and it will be yours." So how can we become fully convinced? Romans 10:17 says, "So faith comes from hearing, and hearing through the word of Christ." We can't will ourselves to believe. We must receive faith by prayerfully hearing and studying God's word, and burying it deep in our hearts.
Wrap It Up
The power to perform signs and wonders, to bring heaven down to earth, did not die with the disciples. You can experience kingdom power today! 
Become clean and childlike before God, and recognize his authority. Actively pursue God, align your will with his, disregard your own inabilities, and be fully convinced.
Are you ready to experience kingdom power and miracles in your life? Then let's grow together into our full and intended purposes in Christ!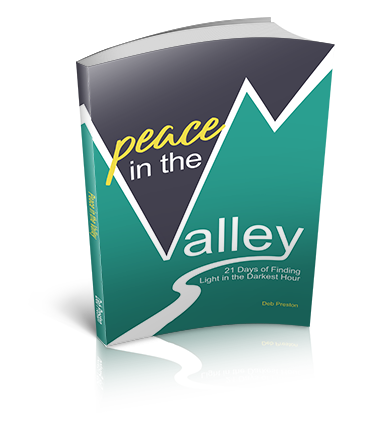 P.S. Looking for a miracle to escape the valley? Our new 21-day devotional is refreshingly honest, down-to-earth, and speaks to the heart of the matter—how can we reconcile our trials with our faith? Check it out here!
Disclosure: While all opinions are our own, we are a participant in the Amazon Services LLC Associates Program and other affiliate advertising programs, designed to provide a means for us to earn fees by linking to Amazon.com and affiliated sites, at no additional cost to you.