What Does the Bible Say About Hearing God's Voice?
Have you ever wondered if you're hearing God's voice or your own? I read a Bible verse that really struck me a few weeks ago:
It struck me because I hear people say this all. the. time. "God told me this."
And it's usually done with the best of intentions! We're sharing what God is doing in our hearts, and we should talk about those things!
But we're walking a fine line. Because God usually speaks to our hearts and minds…where our thoughts also reside. And that makes it very easy to tangle up and confuse our thoughts with God's.
Suddenly, "God" is telling us to do the very thing we wanted to do! Woo hoo!
Or maybe he's dishing on our spouse and everything they need to work on. All of a sudden, God sounds a lot like…us!
So how can we tell if we're hearing God's voice or our own human thoughts? Because we want to be sure we don't become like the people God referred to as "twisting" His message.
I've discovered a few distinguishing criteria that have helped me to differentiate God's voice from my own.
How to Know If We're Hearing God's Voice
God's voice doesn't obsess over our problems.
Can you find any place in the Bible where God is fixated on the same problem for the 127th time? But we tend to do that, don't we?
When we're in pain or discomfort, when we're struggling under the weight of depression or anxiety, when we feel we've been wronged…we tend to talk about it every chance we get, telling anyone who will listen.
God certainly hears our concerns, but he doesn't stay there for long. When God speaks, he doesn't talk about the problem, he talks to it…about Himself.
He inspires prophets to proclaim things like, "The stick gods who made nothing, neither sky nor earth, will come to nothing on the earth and under the sky. But it is God whose power made the earth, whose wisdom gave shape to the world, who crafted the cosmos. He thunders, and rain pours down. He sends the clouds soaring" (Jeremiah 10:11-12).
If you have a thought that says, "I still can't believe so-and-so did that to me years ago," it's likely not God's voice stirring up your emotions.
God's voice doesn't gossip.
In verse after verse, Christians are instructed to refrain from gossip. In fact, we're called to an even higher standard than simply refraining!
Ephesians 4:29 challenges us, "Watch the way you talk. Let nothing foul or dirty come out of your mouth. Say only what helps, each word a gift."
God may grant you some insight behind someone's words or actions, but he won't do it in a way that sets you up as that person's judge or jury.
I love how Jesus words it in Matthew 7:1-4, "Don't pick on people, jump on their failures, criticize their faults – unless, of course, you want the same treatment. That critical spirit has a way of boomeranging…It's this whole traveling road-show mentality all over again, playing a holier-than-thou part instead of just living your part."
If you hear thoughts criticizing someone's faults or jumping on their failures, it's likely not God letting you in on his judgment.
God's voice will usually speak with you about your own heart, not others' hearts.
This plays off the last verse, where Jesus instructed us to leave judgment to God and focus on living our own part.
I've entered into prayer straight up infuriated with people. I've vented to God and told him how someone else needed to act differently.
And you know what? I can't think of a single time that God has agreed, "Yes! They need to butt out and mind their own business!"
No, God's voice never fuels the fire of my bitterness. Instead, he's whispering for me to focus my eyes on Him, to attend to my own actions and my own heart, and to trust Him to resolve everything else.
If you walk away from your quiet time with a laundry list of things that others need to work on, you might have mixed up God's voice with your own.
God's voice focuses more on the heart of the issue than on direct answers.
Have you ever noticed how religious leaders in the Bible were always pressing Jesus for direct answers, but He didn't usually provide them? Instead, Jesus responded with questions or stories that got to the heart of the matter (like Matthew 12:9-14).
He was trying to help them see and understand their own hearts behind the question, and He's still doing it today. For example, when I asked God for specific answers in my job search, my heart was redirected to question whether I trusted God as my provider, or an employer.
That's not to say that God will never deliver a specific directive, but that Jesus more often answered questions with more questions, to get to the root of things. And the answers that come from Jesus' questions accomplish much more than a straightforward "yes" or "no" might.
God's voice will never contradict Scripture.
Hebrews 13:8 tells us that God never changes. And in Psalm 89:34, God asks us, "Do you think I'd withdraw my holy promise or take back words I'd already spoken?"
That means God won't tell you anything that is contrary to what He has said in Scripture. He won't tell you to cheat on your spouse, disrespect leadership (1 Peter 2:13), or cheat your employer.
Not every thought in your head is God speaking, even if you're a believer. Between our own sinful nature and the thoughts of the enemy constantly trying to infiltrate our minds, it's easy to tangle up or confuse our thoughts with God's.
If you're wondering if you're hearing God's voice or your own, ask yourself if the voice obsesses over problems, gossips, concerns itself with others' hearts, never addresses the root of your questions, or contradicts Scripture. If the voice is hitting any of these points, you might be hearing your own voice instead.
One of the best ways I've found to hone my skills at recognizing God's voice is to dive into the Bible. The more you listen to God's voice in Scripture, and read about how he approaches every situation from Old to New Testament, the more easily you'll be able to pick out his voice in even the most crowded mind.
(Need a little guidance in this area? Be sure to check out The 40 Best Devotionals for Women!)
Have you learned any tricks for hearing God's voice? Be sure to share in the comments!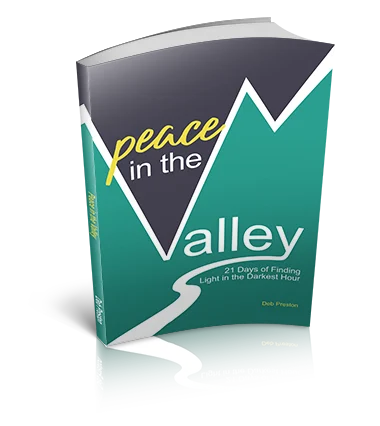 P.S. Having trouble hearing God in the valley?

Our new 21-day devotional is refreshingly honest, down-to-earth, and speaks to the heart of the matter—how can we reconcile our trials with our faith? Check it out here!
Disclosure: While all opinions are our own, we are a participant in the Amazon Services LLC Associates Program and other affiliate advertising programs, designed to provide a means for us to earn fees by linking to Amazon.com and affiliated sites, at no additional cost to you.