You know you've heard it before…"Don't give money to the homeless; they'll just spend it on booze!" But is that really true? Have you ever wondered how to help the homeless? I mean, how to really make a difference?
The fact is that a crucial piece of a life well-lived includes helping to meet the needs of those around us. It's our responsibility as fellow human beings, we've been called to it as Christians, and frankly, it helps to put things into a healthier perspective, shifting our focus away from ourselves.
So I've been doing boatloads of research this week to learn how to help the homeless in the most practical and useful ways possible. I tried to go straight to the source, with information gathered from shelters, homeless ministries, and the homeless themselves. Here's what I found out!
How to Help the Homeless Emotionally
First of all, more than food, clothing, or money, the most common needs expressed by the homeless are dignity, kindness, understanding, and encouragement. Most people avoid eye contact with the homeless, ignore their attempts at conversation, and/or act very obviously uncomfortable with any interaction. Just making eye contact and engaging in simple conversation, even saying "hello" or "good morning," can go a long way in vastly improving their day.
Of course, be wise when engaging in conversation with strangers, homeless or not. Keep interactions contained to safe, public places where there are other people around.
How to Help the Homeless Practically
Next, there are some very practical needs that you can meet for the homeless! But before diving into our list, I'll mention that it's always good practice to ask before you give.
Everyone's circumstances are different, and they may not need what you're offering. If they decline your offer, wish them well and save your items for those that do need them.
Clothing
Clothing wears out quickly when you're wearing it every day. Socks and teeshirts were highest on the list of clothing needs. Wondering which socks they prefer? I researched that too!
The most common answer was men's white crew socks. Shoes are also in high demand but more difficult to provide given the wide range of sizes.
Cold Weather Clothing
Do you live in an area that experiences cold temperatures? Hats, gloves, scarves, and coats will help to shield the homeless from the elements.
Don't have the money to go out and purchase new items? Gently used items are appreciated as well! Check your closet for any hats or coats you don't use, and give them to those who will.
Hand warmers are a fantastic help as well. Consider purchasing them in bulk and keeping some handy in your purse or car to give to others when you encounter a need.
Bedding
Blankets and sleeping bags are helpful, the more easily portable, the better.
Personal Hygiene Items
Toothpaste, toothbrushes, deodorant, feminine hygiene products (pads), disposable razors, shaving cream, chapstick, and hand wipes are common items that are often foregone in favor of food.
Lotion is commonly needed during the winter, when hands can become dry and chapped from constant exposure to the cold. Consider saving the small bottle of lotion from your hotel bathroom and sharing it with someone who could really use it.
Food
Aim for food that is both filling and easily transported, like breakfast/cereal bars, tuna and crackers, crackers with peanut butter or cheese, or beef jerky. A bottle of water can also help to combat the dehydration that homeless people commonly experience.
Fast Food or Grocery Store Gift Card
This provides them with not only food but also a place to get out of the street for a while, use the restroom, etc., since many stores only allow paying customers inside.
Train or Bus Card
Offer a means of transportation to nearby shelters, ministries, grocery stores, and more!
Resource Card
Use this website to locate shelters and other homelessness assistance services in your area. Then jot down any helpful nearby services, along with addresses and phone numbers, on a notecard or piece of paper. Many homeless people mentioned that shelters and ministries are most helpful to their needs but that they don't always know where to find them.
An Encouraging Note
As mentioned above, the homeless are often denied basic dignity and even acknowledgment by others. Including an encouraging note with your gift of food or hygiene items, telling them you care and that they matter, could be just the words they need to hear!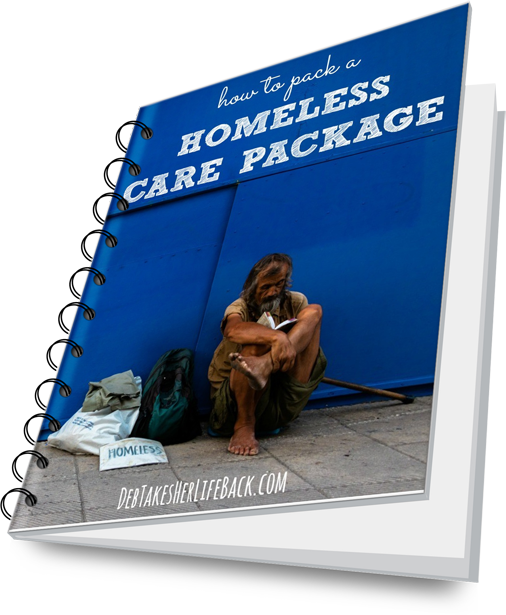 (Want this list of practical items, plus more ideas, in one handy guide? Be sure to download our free guide to creating homeless care packages HERE!)
So what should you do…keep socks or toothbrushes in your car and hand them out to the homeless as you meet them? Possibly! In fact, many people do just that!
You can also create a small bag of items to keep handy in your car. During my research, I stumbled upon the idea to pack several items inside of a Nalgene or other wide-mouthed water bottle. This provides them with several much-needed items, plus a durable water bottle.
So I did just that, packing socks, hand wipes, snacks, and a McDonald's gift card inside the bottles! I put a few in my car and a few in my husband's, so we'd both be ready whenever we encountered a need. You can also pack items into a gallon Ziploc bag or gently used purse or backpack.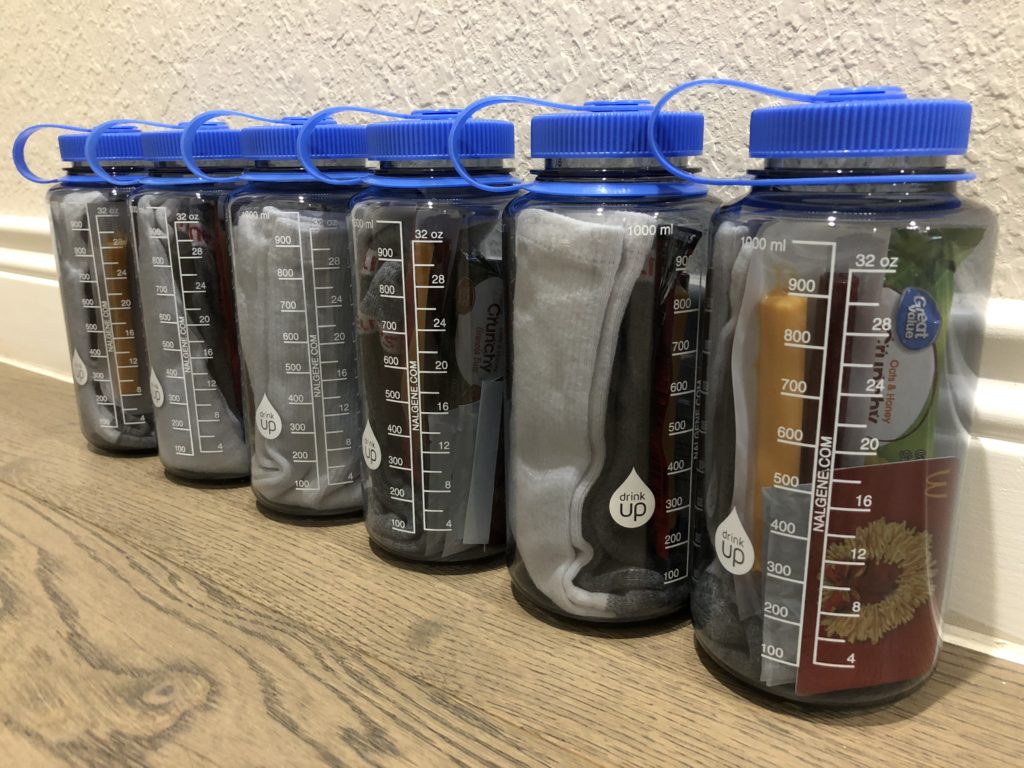 How to Help the Homeless on a Larger Scale
And finally, do you want to make a difference in the lives of more than one or two homeless people? Then consider donating your time and/or money to homeless shelters or ministries!
Check out this homeless shelter directory or your local church, and ask how you can help! These services have deeper pockets and more connections to provide the homeless with not just a meal but the training and assistance they need to get back on their feet again.
So now you know how to help the homeless! You are completely capable of making a difference in their lives, either emotionally or practically, or by volunteering!
Have you found a way to help and encourage the homeless in your area? Any tips or tricks you've learned? Be sure to share with us in the comments!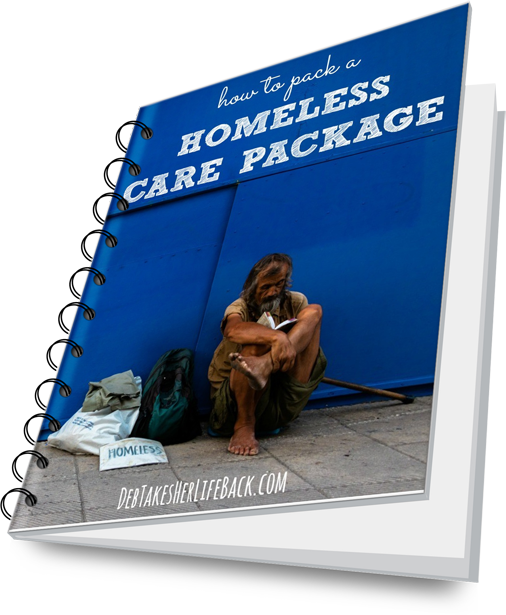 P.S. Want this list of practical items, plus more ideas, in one handy guide? Be sure to download our free guide to creating homeless care packages HERE!
*Updated April 12, 2021.
Disclosure: While all opinions are our own, we are a participant in the Amazon Services LLC Associates Program and other affiliate advertising programs, designed to provide a means for us to earn fees by linking to Amazon.com and affiliated sites, at no additional cost to you.