The sermon at church today really struck me, and I just can't stop thinking about it. See, it never occurred to me how Moses must have felt when he found himself stuck in the desert, before God ever called to him from the burning bush. I had never thought to calculate just how far he had fallen, and just how disappointed and exhausted and hopeless he must have felt, like a waste of a life.
Do you remember his story? Moses was born to a Hebrew mother who floated him down the Nile in a basket to save his life. The Pharaoh's daughter found and adopted him, and Moses spent the next 40 years of his life living in the palace as royalty, a real-life fairytale.
But when he murdered an Egyptian to avenge his fellow Hebrew? The Pharaoh wanted him dead. So Moses fled the country and spent the next 40 years hiding out in the desert as a shepherd.
He fell from one of the highest positions in the entire country to one of the lowest occupations known to man…from being recognized and revered by everyone to being seen by no one in the desert. He became a servant instead of someone to serve.
You probably haven't fallen from royalty to animal herder. But a much lesser fall could still land you in your own desert, disappointed, exhausted, and hopeless.
What can we do when we find ourselves stuck in the desert? How can we find our way out again? Reclaim our former glory?
Practice Mindful Progress When You're Stuck in the Desert
First, don't despise and curse the desert forever. Sure, you're going to grieve your fall into the desert at first. Complaining, crying, and stomping your feet in anger are all a normal part of the human experience. But for your sake and the sake of those around you, do not stay in that place. Complaining might make you feel better in the moment, but it doesn't move you a single inch closer to escaping that desert. In fact, it makes the desert feel hotter, drier, more lonely, and even more unbearable. So after you've cursed the desert, make a conscious decision to keep moving forward. As the saying goes, "If you're going through hell, keep going."
Second, allow the desert to bring out the best in you, rather than the worst. One of the most challenging Bible verses I've read resides in Proverbs 24:10 (MSG), "If you fall to pieces in a crisis, there wasn't much to you in the first place." Yikes. So what should we do if and when our crisis brings out our worst? James 1:2-4 offers advice, "Consider it a sheer gift, friends, when tests and challenges come at you from all sides. You know that under pressure, your faith-life is forced into the open and shows its true colors. So don't try to get out of anything prematurely. Let it do its work so you become mature and well-developed, not deficient in any way." God sees where you are right now. But He also sees what's coming down the road. Ask yourself what you're learning, how you're growing, how this desert might be changing you for the better and preparing you for what's just up ahead.
Stay Connected When You're Stuck in the Desert
Third, stay connected to others. We live in what many have labeled the loneliest generation. Community takes work, doesn't it? It requires commitment and sometimes inconvenience that often makes it easier to just stay home. So for the most part, we tend to fight our battles in solitude. But Moses knew better. Rather than live as a lonely nomad, he settled down in the desert and become close with his wife's family. Because God didn't call us to live as silos. Sure, silos can store food and other resources, but eventually they run out. Instead, God calls us to live in the open fields of community. In that position, we can find the fresh produce, sun, and water we need for growth and survival. We can freely give to others and receive in return. Not to mention that we've been called by God to live in community with one another, and provided an example of that life by Jesus himself.
Fourth, stay connected to God's Word. God called Ezekiel to prophesy to a disappointed and hopeless generation. In Ezekiel 37, He called the prophet to a field of dry bones and instructed him to bring them back to life. How? By speaking the Word of God over them. In verse 4, God instructs Ezekiel, "Prophesy over these bones: 'Dry bones, listen to the Message of God!'" God's Word holds the power to bring your dry bones to life when you're stuck in the desert. But they're not just to be read once and forgotten. In Joshua 1:8, God instructs His people, "Don't for a minute let this Book of The Revelation be out of mind. Ponder and meditate on it day and night, making sure you practice everything written in it. Then you'll get where you're going; then you'll succeed." (Need a little help connecting with God's Word? Check out The 40 Best Devotionals for Women!)
Praise and Turn Toward God When You're Stuck in the Desert
Fifth, praise God. I've found one of the hardest things to do when you find yourself stuck in the desert, is to praise God. You're tired and maybe even beginning to question if God sees you, or if He cares. But I always come back to two questions. (1) Is God good, even when my life isn't good? And (2) is God worthy of praise, even when my life isn't? Because if He is, I have a responsibility. And praising God, declaring His goodness and power, even in the middle of the desert, is one of the most powerful tools you have at your disposal. It breaks strongholds. It sets prisoners free.
And finally, and most importantly, turn toward God. Here's the pivotal point where my pastor zeroed in. After spending 40 years stuck in the desert, Moses stopped to look at the burning bush in Exodus 3. God could have rained down fire on him from the sky. He could have forcibly brought him to his knees. But instead He caught fire to a bush, a pretty common sight in the desert. Moses had to stop and look to notice the bush wasn't burning up in the flames. And in verse four, "God saw that he had stopped to look. God called to him from out of the bush, 'Moses! Moses!'" Notice that God didn't begin speaking to Moses until Moses stopped to look. How often do we get caught up in our day-to-day when we're stuck in the desert? We focus our efforts on simply surviving each day, and turn our attention to ourselves and our needs. We pray for God to show up in a big way…to speak to us audibly, to send a message through our pastor, to perform a miracle to catch our attention. But God most often appears to us in the ordinary. And to catch it, we have to be looking for Him and posturing ourselves toward Him.
Wrap It Up
If you find yourself stuck in the desert today, please rest in the fact you are far from alone. Even Moses, one of the greatest characters in the entire Bible, experienced the same heartache. But by choosing to move forward and learn from it, by staying connected to others and to God's Word, and by praising and turning toward God, I can promise you that your story will not end in this dry and barren place.
Moses may have spent 40 years stuck in the desert, but when the time came, he stepped out of the desert into Egypt, brought down plagues from God Himself, and marched the Israelites, loaded down with gifts, straight through a parted sea to freedom. How will your story end? I can't wait to hear about it.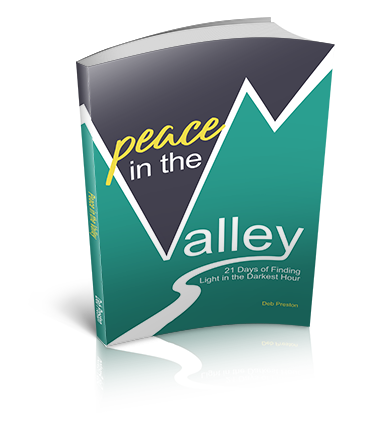 Disclosure: While all opinions are our own, we are a participant in the Amazon Services LLC Associates Program and other affiliate advertising programs, designed to provide a means for us to earn fees by linking to Amazon.com and affiliated sites, at no additional cost to you.